Towards the end of the Civil War, Southerner Augusta (Brit Marling – Arbitrage, The East) encounters two renegade, drunken soldiers (Avatar's Sam Worthington and Poldark's Kyle Soller) who are on a mission of pillage and violence. After escaping an attempted assault, Augusta races back to the isolated farmhouse that she shares with her sister Louise (Hailee Steinfeld – True Grit, Pitch Perfect 2) and their female slave Mad (newcomer Muna Otaru). When the pair of soldiers track Augusta down intent on exacting revenge, the trio of women are forced to take up arms to fend off their assailants, finding ways to resourcefully defend their home – and themselves – as the escalating attacks become more unpredictable and relentless.
The Keeping Room is a fresh take on the classic Western from Daniel Barber, the director of Harry Brown, subverting expectations with a strong young cast, including Brit Marling and Hailee Steinfeld delivering astounding performances. It sees trio of Southern women forced to take up arms and defend themselves and their home against renegade Union soldiers, with violent consequences.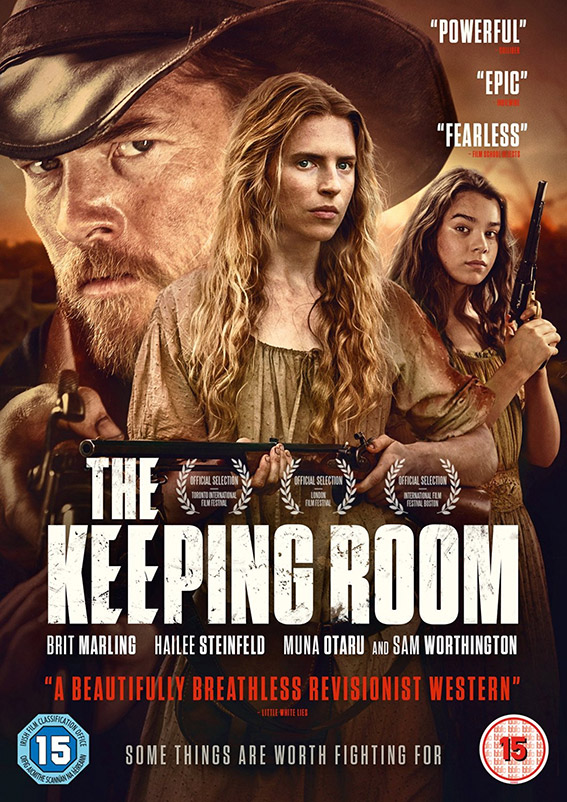 Described by The Guardian as "probably the most authentically unorthodox take on the genre you will see for a while" and NME as "Harrowing and distinctive," The Keeping Room will be released in the UK on Digital Download on 10th October 2016 and DVD on 17th October 2016 from Lionsgate Home Entertainment UK at the RRP of £19.99 for the DVD.
Special features:
The Making Of The Keeping Room

Audio Commentary with Julia Hart and Brit Marling