Called "the best horror anthology since Trick 'r Treat" by Fangoria and "among the best Halloween-themed horror movies ever made" by DailyDead, Tales of Halloween weaves together ten chilling tales from some of modern horror's key directors including Neil Marshall (The Descent), Lucky McKee (The Woman) and Darren Lynn Bousman (Saw II, III & IV).
As well as a host of newcomers and rising stars, Tales from Halloween gives horror fans a real treat with appearances by some top horror actors and filmmakers. Adrienne Barbeau pays homage to her classic role in The Fog by voicing a DJ, while directors John Landis, Joe Dante and Adam Green also pop up in various roles. It's a veritable who's who of horror and fans will love spotting the familiar faces.
But Tales of Halloween isn't just about cameo-spotting and big names. It's also been creating some buzz for its ten interlinking segments, which centre around an American suburb terrorised by a variety of monsters, ghouls, murderers and even the Devil himself on Halloween night. Whether it's a serial killer meeting his match in an alien from outer space, a young boy being taught a lesson in etiquette by Satan, or a man-eating pumpkin laying siege to the town, there is, theoretically, a tale for everyone.
The full list of directors:Darren Lynn Bousman (Saw II, III & IV, Repo! The Genetic Opera), Axelle Carolyn (Soulmate), Adam Gierasch (Night of the Demons), Neil Marshall (The Descent, Dog Soldiers), Lucky McKee (May, The Woman), Mike Mendez (The Gravedancers, Big Ass Spider!), David Parker (The Hills Run Red), Ryan Schifrin (Abominable), John Skipp & Andrew Kasch, Paul Solet (Grace).
The cast includes: Adrienne Barbeau (The Fog, Creepshow, Escape from New York), Joe Dante (Gremlins, Matinee), John Landis (An American Werewolf in London), Adam Green (the Hatchet trilogy), Pat Healy (The Innkeepers, Cheap Thrills), Booboo Stewart (The Twilight Saga), Keir Gilchrist (It Follows), Pollyannna McIntosh (The Woman), James Duval (Donnie Darko), Barry Bostwick (The Rocky Horror Picture Show) and Grace Phipps (Fright Night).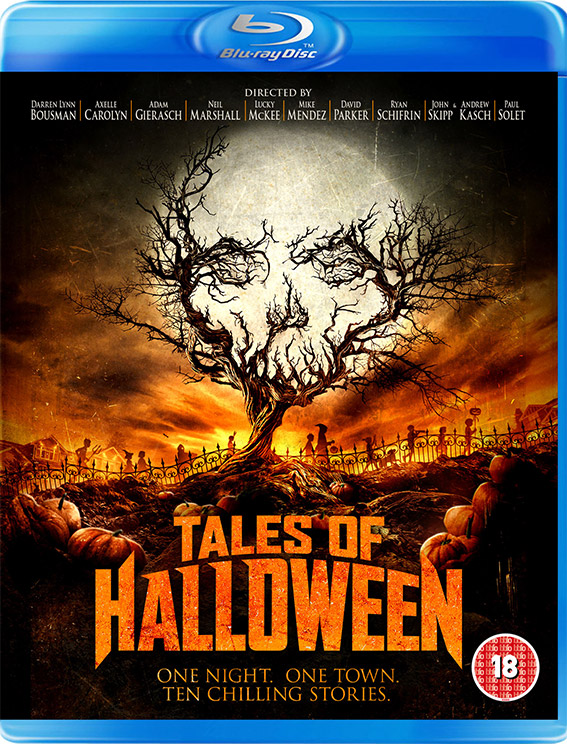 Tales of Halloween will be released on Digital HD on 17th October 2016 and DVD and Blu-ray on 24th October from Arrow Films at the RRP of £15.99 for the DVD and £17.99 for the Blu-ray.
DVD special features:
Deleted Scene / Grim Grinning Ghost – directed by Axelle Carolyn

Behind-The-Scenes / Sweet Tooth – directed by Dave Parker

Anatomy of a Scene / Friday the 31st – directed by Mike Mendez

Fun Facts / pop-on video commentary for selected segments (caption file)

Photo Gallery / Behind-The-Scenes of Bad Seed

Storyboards / Ding Dong
Blu-ray special features:
Deleted Scene / Grim Grinning Ghost – directed by Axelle Carolyn

Behind-The-Scenes / Sweet Tooth – directed by Dave Parker

Anatomy of a Scene / Friday the 31st – directed by Mike Mendez

Fun Facts / pop-on video commentary for selected segments (caption file)

Photo Gallery / Behind-The-Scenes of Bad Seed

Storyboards / Ding Dong

Video Diaries: 2-3 Video Diaries for each segment of the anthology, featuring interviews with the directors, cast, and crew, and sneak peeks behind the scenes on set. Total Run Time: Approximately 60 minutes, Stereo/Mono Audio

Exclusive Shorts:

Brain Death (21 minutes) - directed by Neil Marshall
The Halloween Kid (7 minutes) - directed by Axelle Carolyn
Boilly (00:30 seconds) - directed by Lucky Mckee
Thirsty (14 minutes) - directed by Andrew Kasch & John Skipp
Hot Rod Worm (4 minutes) - directed by Andrew Kasch & John Skipp
No Rest for the Wicked (15 minutes) - directed by Ryan Schifrin

Commentary - Feature

Commentary - Sweet Tooth, with Dave Parker

Commentary - Ding Dong, with Lucky McKee

Commentary - Trick, with Adam Gierasch