Described as "among the most controversial documentaries in the history of cinema," (although the press release is rather coy about who said it), Sheldon Renan and Academy Award nominee Leonard Schrader's (Kiss Of The Spider Woman, Mishima, Blue Collar) The Killing of America (1981) is a graphic and provocative examination of America's history, complete with senseless violence, mass shootings and coldAblooded murder.
Never distributed, televised or made available for sale in the United States, this provocative documentary now arrives in the UK, courtesy of Severin Films, in a fully restored edition and makes its FrightFest premiere on 29th August 2016. A limited theatrical release will follow and, on 24th October, the first ever UK Blu-ray release of the infamous 'shock doc' arrives loaded with exclusive special features – including the even more unnerving Japanese version known as Violence U.S.A. – which remains one of the most profoundly disturbing and still chillingly relevant documentary experiences of our time. A DVD version will also be available.
With gun crime at an all-time high in the USA and the UK, and increasing year on year, the film is as relevant today as it was in 1981. At the time of the film an attempted murder happened every three mins and a murder every 20 minutes. The film looks at the staggering violence in explicit detail and features alarming archive footage of brutal violence from massacres to assassinations and beyond.
The Killing of America features interviews with police, coroners and mass murderers including Ed Kemper and Wayne Henley, as well as exclusive footage of some the world's most prolific serial killers, from Ted Bundy, Charles Manson, Son of Sam David Berkowtz, to the Hillside Strangler Kenneth Bianchi and Sidewalk Sniper Sam Brown. It features footage and reports of some of the most high-profile assassinations including John F Kennedy, Robert F Kennedy, Martin Luther King and John Lennon.
The shocking scenes reflect a violent nation, although little has been done since it was made more than 35 years ago – it is estimated that the US population still own a whopping 300 million guns of all sizes and shapes – almost enough guns for every man, woman and child in the population. And figures suggest that since 1968, there have been 1.4 million deaths caused by firearms – more than the total killed in wars fought by America from the Independence battles through to Iraq...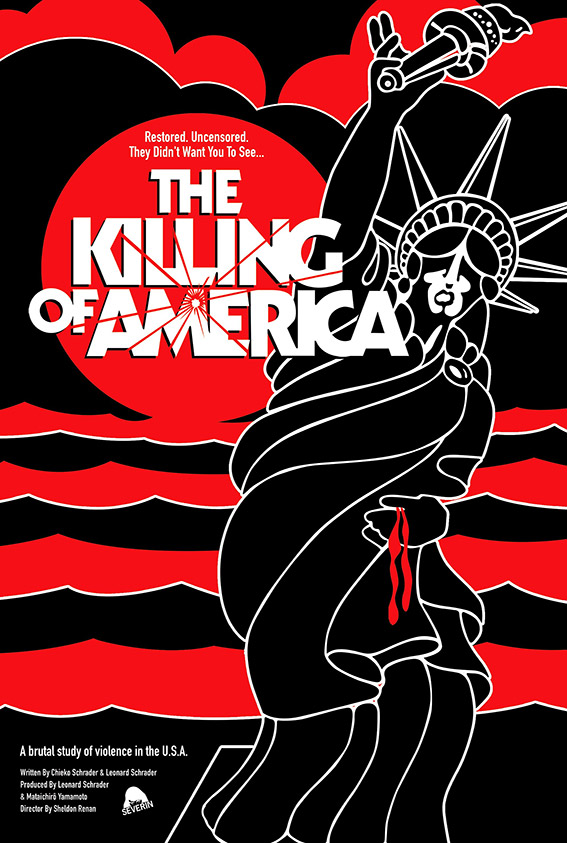 The Killing of America lays bare the tragic and brutal history of one of the most powerful nations in the world. It makes its UK Blu-ray debut alongside a DVD release from Severin Films on 24th October 2016 at the RRP of £19.99 for the Blu-ray and £14.99 for the DVD.
We're assured that the discs will be "loaded with exclusive special features," but they're unfortunately not detailed on the press release.