To mark the 40th anniversary of the UK release of director Nicolas Roeg's iconic science fiction odyssey, The Man Who Fell to Earth, Studiocanal's 4k restoration of the cult classic will be released in cinemas nationwide on 9th September by Park Circus and on Download, DVD, Blu-Ray and as a Collector's Edition from 24th October by Studiocanal, complete with brand new bonus material and special packaging, as part of their Vintage Classics range.
Thomas Jerome Newton (David Bowie) is a humanoid alien who comes to Earth from a distant planet on a mission to take water back to his home planet in the midst of a catastrophic drought. Using the advanced technology of his home planet to patent many inventions on Earth, Newton, aided by leading patent attorney Oliver Farnsworth (Buck Henry – The Graduate, Get Smart), acquires incredible wealth as the head of a technology-based conglomerate that he intends to use to finance the construction of a space vehicle to ship water back to his planet. Newton embarks on a relationship with hotel maid Mary-Lou (Candy Clark – American Graffiti, Zodiac) and makes progress with the construction of his vehicle but soon finds his true identity at risk via his roguish colleague and confidant Dr. Nathan Bryce (Rip Torn – Men in Black, Marie Antoinette) who threatens not only his relationship with Mary-Lou, but his freedom and chances of making it home to the family he yearns for.
Restored by Deluxe London, the restoration of The Man Who Fell to Earth is based on a 4K scan of the original camera negative, followed by a full 4K workflow, with the approval of Nic Roeg and the assistance of cinematographer Anthony Richmond, who was closely involved in the new grade. Richmond says:
"I had been disappointed with previous editions of the film for which I hadn't been involved in the grading process. The colourist Steve Bearman and I have brought the new 4k restoration in line with the original film print. I felt that certain scenes were lacking that look and feel. Probably the biggest change is early in the film where David Bowie is sitting by the riverbank drinking water and looking at the rings. We warmed it up and made it match the print. I also felt the interiors all had a little too much Magenta in them so we took that out. The other changes were very subtle."
Featuring a startling and era defining lead performance from David Bowie (The Prestige, Labyrinth) in his debut feature role and based on the cult novel by Walter Tevis, The Man Who Fell to Earth endures as, not only a bitingly caustic indictment of the modern world but, also, a poignant commentary on the loneliness of the outsider.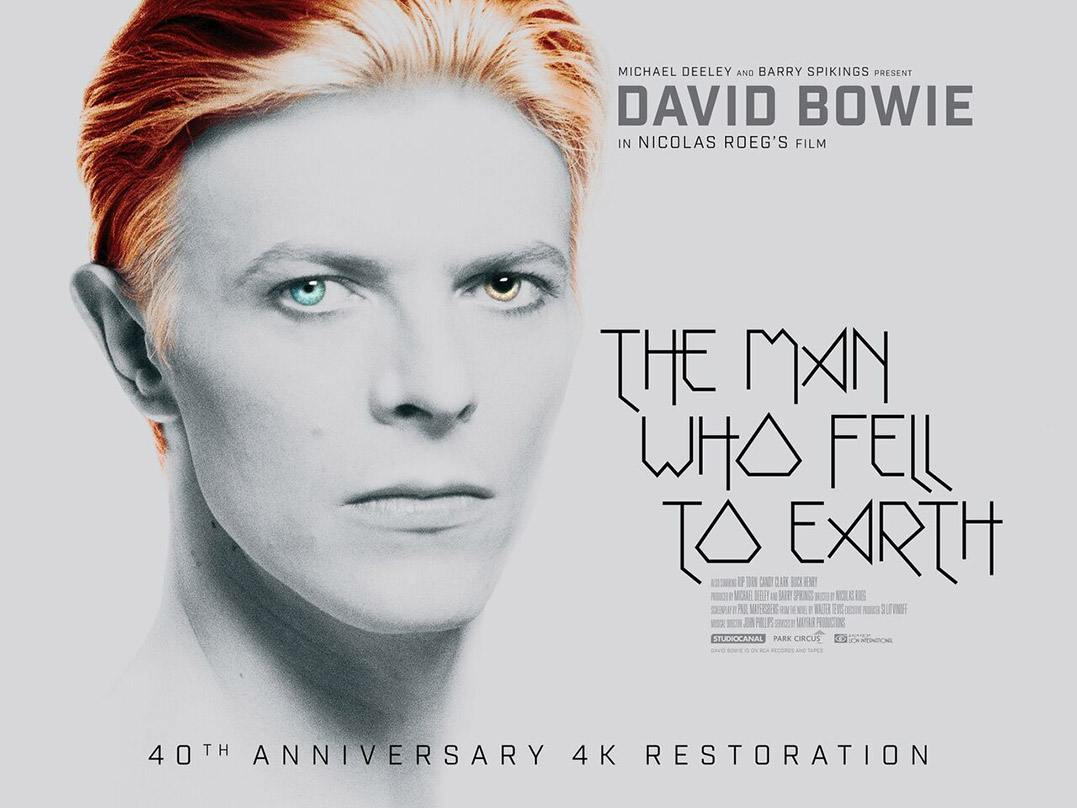 The Man Who Fell to Earth will be released on UK Blu-ray and DVD and as a 40th Anniversary Collector's Edition by Studiocanal as part of its Vintage Classics collection on 24th October at a yet to be confirmed RRP.
Collector's Edition, Blu-ray and DVD special features:
New interview with costume designer May Routh featuring original costume sketches

New interview with stills photographer David James featuring behind the scenes stills

New interview with fan Sam Taylor-Johnson

New interview with producer Michael Deeley

New The Lost Soundtracks featurette including interviews with Paul Buckmaster and author Chris Campion

French TV Interview with David Bowie in 1977

Interview with Candy Clark

Interview with cinematographer Tony Richmond

Interview with director Nic Roeg

Watching the Alien featurette

Trailers / TV spots
Exclusive to the Collector's Edition:
Bonus John Phillips CD

Booklet with essays on the film and the soundtrack

4 stunning, collectable art-cards

The press book and an A4 poster of the brand new theatrical artwork
SPECIAL EVENTS
Curzon Soho are declaring Friday 9th September a one-off David Bowie Day as part of their campaign to save the cinema from demolition. After a special Save Curzon Soho edition of David Bowie Is Walking In Soho tour of the Thin White Duke's locations, led by the V&A's David Bowie Is curator Geoffrey Marsh, join the team at the cinema for a very special screening of The Man Who Fell to Earth introduced by its costume designer May Routh, a special DJ set in the bar, courtesy of TheMenWhoFell2Earth DJs, and more. Read more about what you can do to Save Curzon Soho and book tickets here:
www.curzoncinemas.com/soho/film-info/the-man-who-fell-to-earth
Meanwhile, over in Hackney on Friday 9th, Oscar-winning Director Danny Boyle introduces a special screening at Hackney Picturehouse. This is one of his favourite films and he has often sited Nicolas Roeg as a key influence on his career (he referred to the film in the London Olympic opening ceremony). Then dance the night away to Bowie-inspired tunes in the Attic Bar, courtesy of a DJ set from Readers Wifes. Book tickets here:
www.picturehouses.com/cinema/Hackney_Picturehouse/film/the-man-who-fell-to-earth