A young punk band who surviving on the road head off to perform at a remote gig. After finishing their set, they soon discover a much darker side to the venue and the people who inhabit it. Forced to take drastic action to survive the night, the band soon find themselves trapped in the Green Room with no way out. As the night spirals out of control it becomes clear the club owner only has one thing on his mind: elimination of the whole band.
Directed by Jeremy Saulnier (Blue Ruin) the film stars a strong young cast, including the late Anton Yelchin (Star Trek), Imogen Poots (Need for Speed), Alia Shawkat (Arrested Development), Callum Turner (Victor Frankenstein) and Joe Cole (Peaky Blinders), as well as the legendary Patrick Stewart, who takes the helm as the dark and chilling club owner.
Sharp, brutal and impressively performed, Green Room was described by The Guardian as "a gruelling, gutsy suspense ride," and Kim Newman in Empire as "a riotous, rough-hewn and rousing punk reinvention of '70s-style grindhouse exploitation-with-a-brain-cinema."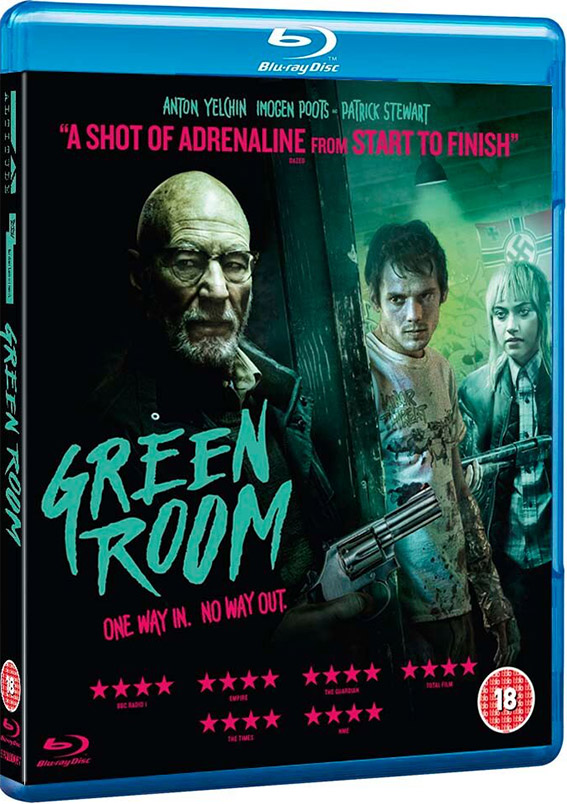 Green Room will be released on UK Blu-ray, DVD and VOD on 19th September 2016, and Digital HD on 12th September 2016 by Altitude Film Entertainment (again, guys, you might want to mention this in your press release) at the RRP of £17.99 for the Blu-ray and £15.99 for the DVD.
No special features were listed in the press release, but we're not reading anything concrete into that.