Touched with Fire stars Katie Holmes (Batman Begins, Dawson's Creek) and Luke Kirby (The Samaritan, Touched with Fire) as two poets with bipolar disorder whose art is fueled by their emotional extremes. When they meet in a treatment facility, their chemistry is instant and intense, driving each other's mania to new heights. They pursue their passion, which breaks outside the bounds of sanity, swinging them from fantastical highs to tormented lows until they ultimately must choose between sanity and love.
The debut feature from director Paul Dalio, who himself once struggled with manic-depression, Touched with Fire co-stars Christine Lahti (Chicago Hope, Studio 60 on the Sunset Strip) and Griffin Dunne (An American Werewolf in London, After Hours) and was executive produced by Spike Lee (Do the Right Thing, When the Levees Broke: A Requiem in Four Acts).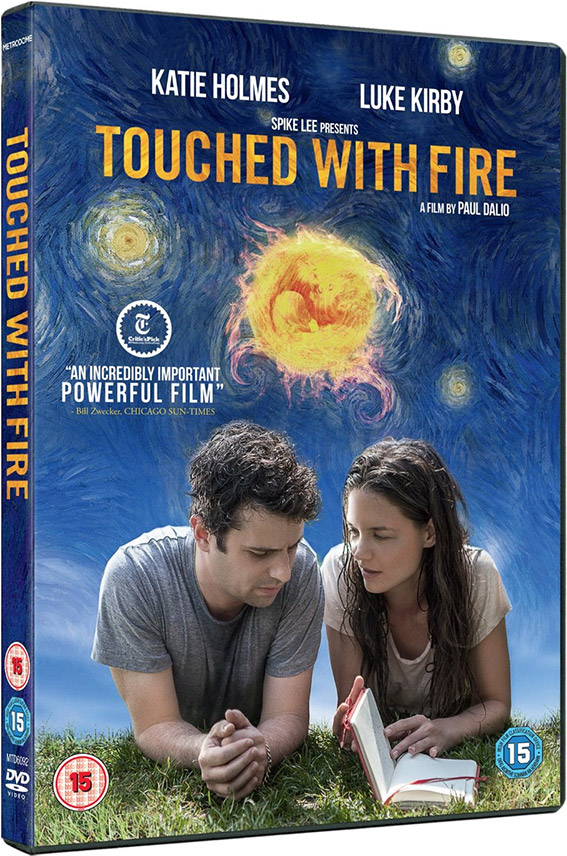 Described by the New York Times as "Extraordinarily sensitive, nonjudgmental exploration of bipolar disorder and creativity," Touched with Fire come to UK DVD on 22nd August 2016 by Metrodome at the RRP of £19.99.
No special features have been listed.