When deaf garbage man Shigeru (Claude Maki) finds a broken surfboard on one of his runs, it piques his curiosity, even though he has no experience with surfing. So he repairs the board and, with loyal girlfriend Takako (Hiroko Oshima), who also is deaf, he sets out to learn how to ride the waves. He goes through mishaps and the locals mock him. But, with the help of a shop owner who once was a surfing legend, Shigeru may finally have a chance to become one with the sea and the surfing community.
Whether as director, actor, writer, artist, TV personality or stand-up comic, Takeshi Kitano has not simply sought out to challenge his audiences. He has always sought out challenges for himself.
With 1989's Violent Cop, Kitano made his directorial debut unexpectedly. When the scheduled director dropped out, Kitano, the project's leading actor, was signed on for replacement. Without previous directorial experience, Kitano revised the script entirely and imposed a sharp and ironic style, later acclaimed for its maturity and its sense of space and framing.
Violent Cop, and other Kitano-helmed films such as Boiling Point (1990) and Sonatine (1993), centered around yakuza gangster characters. Although they became international cult favorites, they also branded the director-writer with a burdensome trademark for graphic violence and Kitano cool. In retaliation with A Scene at the Sea (1991), Getting Any? (1995) and Kids Return (1996), however, Kitano earned praise for his daring changes in directorial style and subject.
With A Scene at the Sea (Ano natsu, ichiban shizukana umi, literally That Summer, the Quietest Sea), Kitano's on-screen presence was absent, as well as the violence which had highlighted his first two films. The poignant story of a deaf adolescent and his passion for surfing showed other facets of Kitano's talent – a discreet emotional sense and a tender point of view toward young people, innocence and marginal existence. A Scene at the Sea also marked the debut of what was to become a longtime collaboration with musician-composer Joe Hisaishi, whose haunting melodies perfectly complement the filmmaker's universe.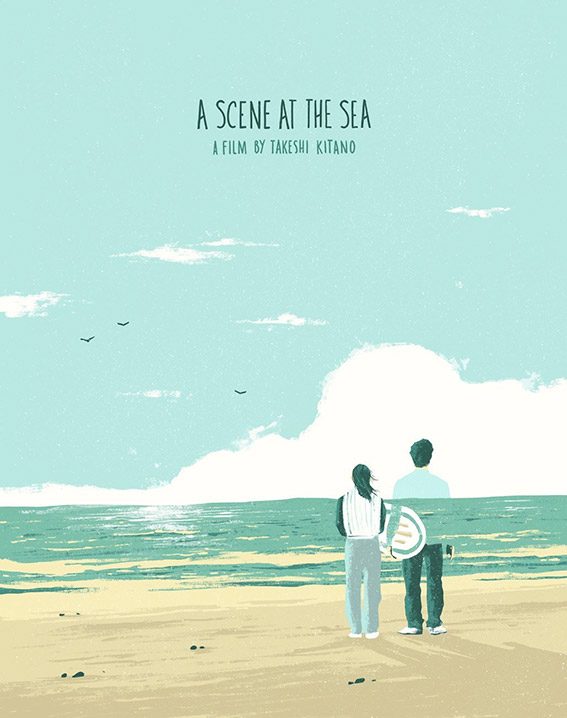 A Scene at the Sea will make its world Blu-ray debut on 12th September 2016 courtesy of Third Window Films at the RRP of £19.99.
Special features:
A new audio commentary by film critic Jasper Sharp

First 1000 copies only: limited cardboard slipcase with new illustrated artwork by Marie Bergeron
You can read our review of the previous DVD release of the film here.