Hidden in the shadows of the Colosseum, the Suburra district was the criminal underbelly of Ancient Rome, home to the city's darkest secrets. In modern times, crime and corruption has spread deep inside the city where everything – even the priesthood – can be bought for a price.
From acclaimed director Stefano Sollima (Gomorrah – The Series, Romanzo Criminale) and based on the novel co-written by Carlo Bonini & Giancarlo De Cataldo, Suburra takes place over seven days leading up to the 'Apocalypse' as a former crime boss, known as 'Samurai', is instructed by corrupt Mafia families to turn the waterfront of Rome into a new Las Vegas.
Elsewhere, after a night of excess leads to a young girl's death, politician Filippo Malgradi (Pierfrancesco Favino – Rush, World War Z) becomes pivotal in a chain of events which sees him drawn into a web woven by Samurai.
As the countdown to the Apocalypse draws to a close, secrets quickly unravel as increasingly powerful gangsters become caught in the crossfire. As the city begins to crumble, all those involved must choose to sink or swim by betraying those closest to them.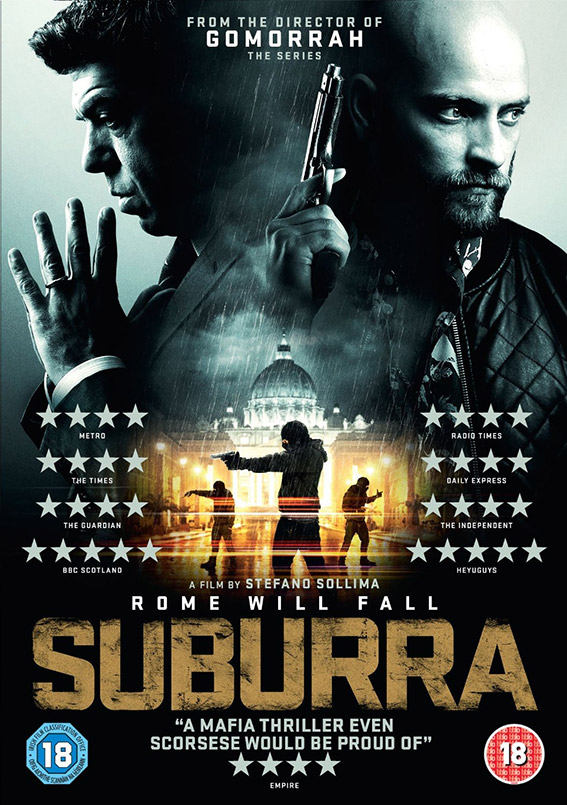 Suburra will be released on UK Blu-ray, DVD and Digital on 5th September 2016 by Kaleidoscope Home Entertainment at the RRP of £19.99 for the Blu-ray and £17.99 for the DVD.
Special features: