In the last days of a dying logging town Christian (Paul Schneider) returns to his family home for his father Henry's (Geoffrey Rush) wedding to the much younger Anna (Anna Torv). While home, Christian reconnects with his childhood friend Oliver (Ewen Leslie), who has stayed in town working at Henry's timber mill and is now out of a job.
As Christian gets to know Oliver's wife Charlotte (Miranda Otto), daughter Hedvig (Odessa Young) and father Walter (Sam Neill), he discovers a secret that could tear Oliver's family apart. As he tries to right the wrongs of the past, his actions threaten to shatter the lives of those he left behind years before.
Loosely adapted from Henrik Ibsen's play The Wild Duck by actor turned director Simon Stone, The Daughter was described by The Playlist as "A quiet, immensely affecting triumph" and Variety as "Deeply involving and emotionally searing."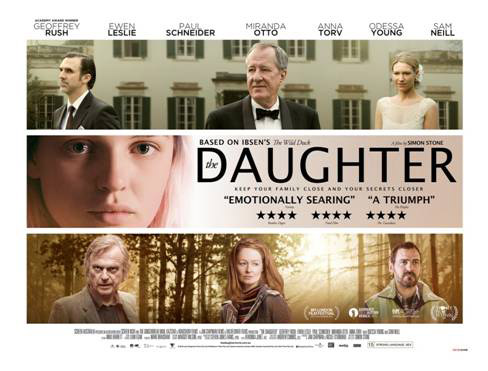 The Daughter will be released on UK DVD on 19th September 2016 by Metrodome at the RRP of £15.99.
No special features have been listed.