For shy and awkward Ryoichi, dreams of musical superstardom have long since faded and he's resigned himself to a lifetime of unrewarding office work for a company that barely acknowledges his existence. But when he randomly buys a pet turtle named Pikadon, a series of events are put into place that not only give Ryoichi the chance to fulfil his rock and roll fantasies, they might just bring about the end of the world.
With more imagination in the first ten minutes than most films can boast in their entire running time, Love & Peace is pure Sion Sono: a bonkers and uproarious one-of-a-kind that simply has to be seen to be believed.
A passion project for Sono (Love Exposure, Cold Fish, Guilty of Romance), Love & Peace is a film he has waited 25 years to make: a kaijyu family film! It stars Hiroki Hasegawa (Attack on Titan, Godzilla: Resurgence), Kumiko Aso (Instant Swamp, Adrift in Tokyo) and Toshiyuki Nishida (Beyond Outrage, Suite Dreams).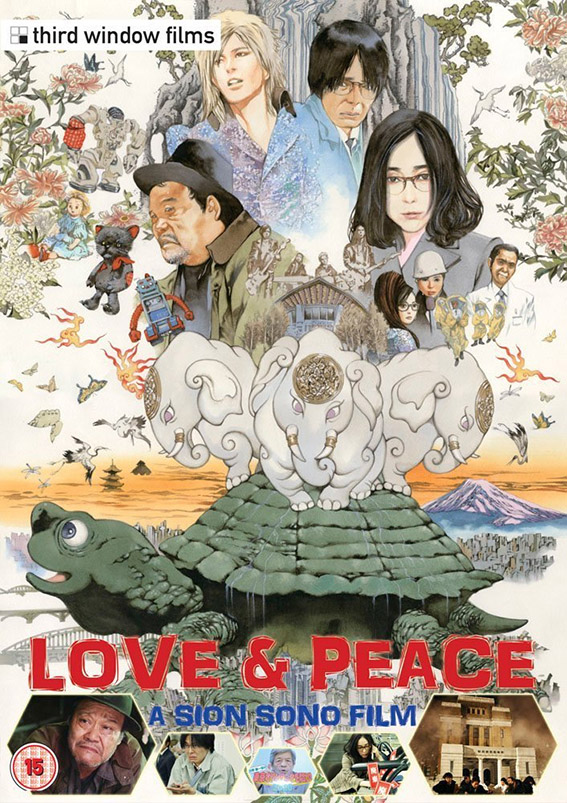 Described by Eye for Film as "Visually stunning, endlessly creative, and it doesn't fail to deliver on the kaiju promise!" Love & Peace [Rabu & Pîsu] will be released on UK Blu-ray, DVD and VOD on 11th July 2016 by Third Window Films at the RRP of £19.99 for the Blu-ray and £14.99 for the DVD.
Special features: