Today Arrow announced the September release of Woody Allen: Six Films 1971-1978, a Blu-ray box set charting the changing face of Allen's early films as director to be released as part of the Arrow Academy label.
With these six films, Woody Allen made one of the most remarkable transitions ever seen in American cinema, from the slapstick buffoonery of the "early, funny films" to the Oscar-winning breakthrough of Annie Hall and the wholly serious Interiors.
Along the way there's the Latin American revolutionary satire Bananas, genre-bending sex-education spoof Everything You Always Wanted To Know About Sex and hilarious time-travelling trips to a future America (Sleeper) and Napoleon-era Russia (Love and Death). All these early films star Allen himself, usually as a hapless victim of unfortunate events, aided by the likes of Diane Keaton (several times), John Carradine, Jessica Harper, Louise Lasser, Lynn Redgrave, Burt Reynolds, Gene Wilder and Daisy the sheep.
But the the mature Woody Allen was first revealed in Annie Hall, a film firmly of its time and place (mid-1970s Manhattan) but also universal in its wry and witty examination of the foibles of human relationships. The claustrophobically Bergmanesque family drama Interiors once seemed like a startling change of direction, but now anticipates much of what came later.\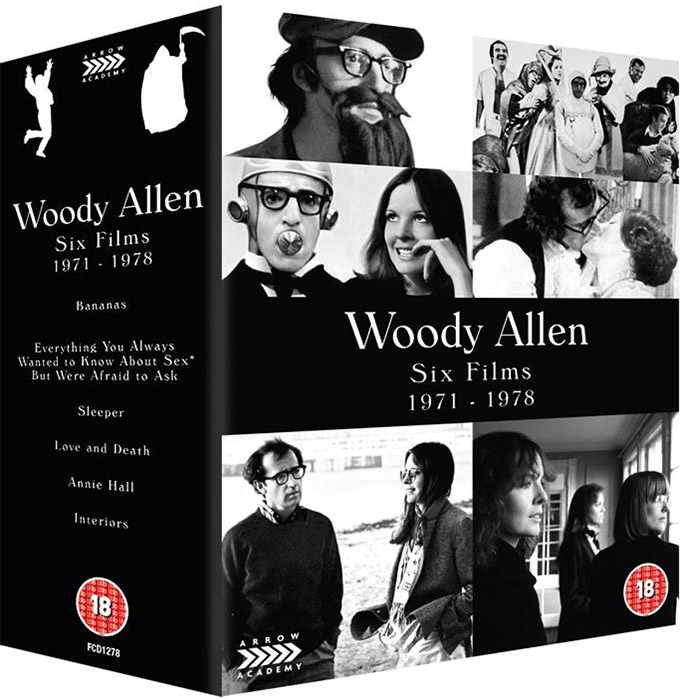 The collection includes:
Exclusive to this collection: Annie Hall and a 100-page hardback book featuring new and archive writing on all the films by Woody Allen, Michael Brooke, Johnny Mains, Kat Ellinger, John Leman Riley, Hannah Hamad and Brad Stevens.
Woody Allen: Six Films 1971-1978 will be released on 5th September 2016 at the RRP of £99.99.
Bananas and Everything You Always Wanted to Know About Sex will also be released as stand-alone Blu-ray discs at the RRP of £17.99 each, also on 5th September 2016.
Full details of each release will be confirmed nearer the release date.