The cafés and artists' studios of bohemian Chelsea provide the setting for the tightly plotted early-fifties Brit Noir thriller, The Night Won't Talk.
London's riverside 'village' awakens to the news that a murder has been committed. The victim, discovered strangled in bed, is Stella Smith, a beautiful young artist's model. Stella, however, was a girl with many enemies – a deceiver of men who was ruthless in the pursuit of money and her career. While there are many who may have had the motive to kill her, the suspicions of Scotland Yard's Inspector West are soon narrowed down to just three people...
Starring B-movie favourite Hy Hazell (Every Home Should Have One), noted character actor John Bailey (Never Let Go) and Ballard Berkely – Fawlty Towers' much-loved Major Gowen – in the type of detective role for which he was best known during his earlier career.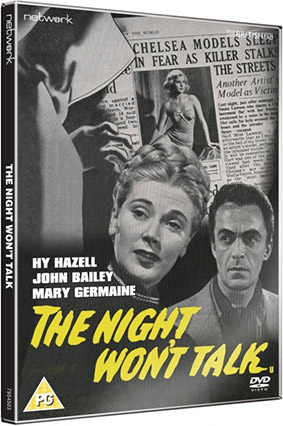 Featured here in a brand-new transfer from the original film elements in its original theatrical aspect ratio, The Night Won't Talk will be released on UK DVD on 27th June 2016 by Network Distributing at the RRP of £9.99.
Special features:
Image gallery

Promotional material PDF