An epic tale of love, betrayal and scandal in Imperial China, Empresses in the Palace, aka The Legend of Zhen Huan [Zhen Huan Zhuan], was a huge hit across Asia and now this gripping Chinese TV drama makes its UK DVD debut from Simply Media.
Sun Li, China's 'queen of television' (Fearless, The Assassins), stars as Zhen Huan, a 17-year-old innocent introduced into the imperial court as the latest concubine of Emperor Yong Zheng (Chen Jianbin – Goddess of Mercy, 24 City). Her dreams of a new life of love and prosperity are swiftly dashed as she enters a dog-eat-dog world of treachery and corruption.
Her arrival sparks anger and resentment with Consort Hua (Jiang Xhin – The Journey of Flower), the highest-ranking concubine in the imperial harem and a powerful figure due to the authority of her brother, a prominent general. She must also do battle with the First Empress (Ada Choi – Fist of Legend), whose own elevated position in the court is under threat.
Amidst all the bitter rivalries and deadly conspiracies, Zhen Huan must summon all her inner strength to protect herself – even from those she once counted as friends. But can she rise to wealth and glory in the Forbidden City without being tainted by corruption?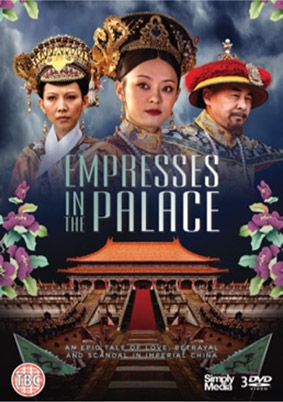 Shown in China in 2012 as 76 episodes across two seasons, the English version is presented as six sumptuous 90-minute episodes and will be released in the UK on DVD for the first time by Simply Media as a 3-disc set on 25th July 2016 at the RRP of £29.99.
No special features are listed.