Shot and set in Manchester, the 1962 acclaimed 'Kitchen Sink' drama, A Kind of Loving was adapted from the Stan Barstow novel of the same name. Directed by John Schlesinger (Darling, Midnight Cowboy, Marathon Man), the film stars Alan Bates as Vic Brown, a young draughtsman, whose search for love leads to Ingrid Rothwell (June Ritchie, in her screen debut), an employee in the company. Ingrid quickly falls in love with Vic, only to find herself falling pregnant after which Vic reluctantly agrees to marry her. Finding himself forced into a life he never wanted, Vic resents Ingrid and the position he finds himself in. Ingrid ends up losing the baby and Vic, spurred on by the acid tongue remarks of his sour mother in law (Thora Hird) decides to run away.
A Kind of Loving won widespread critical acclaim upon its theatrical release, winning the Golden Bear at the 12th Berlin International Film Festival in 1962 and scoring four BAFTA nominations. The film was also a commercial success, becoming one of the most popular films at the UK box office that year.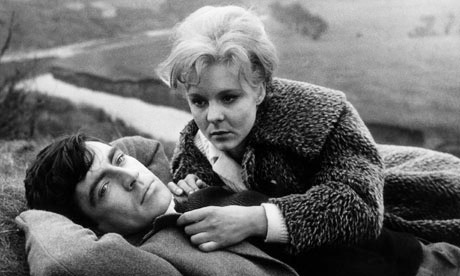 Now Studiocanal and Emfoundation have announced the release of a new restoration of this 1962 classic, to be released in the UK on DVD and for the first time on Blu-ray on 1st August 2016 at a yet to be confirmed RRP.
Special features:
Interview with writer and broadcaster Stuart Maconie (author of Adventures on the High Teas: In Search of Middle England and Pies and Prejudice: In Search of the North)

A Kind of Loving & The British New Wave featurette including interviews with John Hill and Melanie Williams

NFT interview with John Schlesinger from 1988

Terminus: Oscar-winning short film directed by John Schlesinger in 1962

Trailer
head of the DVD/BD release, HOME Manchester will premiere the new restoration on June 19th, (Tickets available here), followed by special screenings at the inaugural Cinema Rediscovered festival in the South West on July 29th.