Nikkatsu, the oldest film studio in Japan, inaugurated a star system in the late 1950s, finding talent and contracting to their Diamond Line for a series of wild genre pictures. his collection celebrates these "Diamond Guys" with three classic films from directors Buichi Saito (Lone Wolf and Cub: Baby Cart in Peril), Ko Nakahira (Crazed Fruit), and Haruyasu Noguchi, who is a new discovery for the West.
In Saito's Tokyo Mighty Guy, mega star Akira Kobayashi stars as Jiro in the rambunctious tale of a chef who opens a restaurant in the busy Ginza district. His culinary skills and dashing good looks bring in the women as well as unwanted trouble, while an explosive political scandal builds around his girlfriend's business…
Next, Jo Shishido (Massacre Gun, Retaliation), one of the most popular Diamond Guys in the West, stars in Danger Pays, a crime caper from Ko Nakahira about counterfeiting. When one billion yen goes AWOL, "Joe the Ace" (Shishido) spies an opportunity to get rich quick, but things soon go wrong as it turns out he isn't the only one who'll stop at nothing to get his hands on the missing cash…
Finally, Shishido stars once again in Noguchi's screwball classic Murder Unincorporated. When the mysterious "Joe of Spades" executes one of the bosses of a powerful syndicate, his colleagues, fearing for their own lives, call on the services of assassin agency Murder Unincorporated to take care of the problem. This unique entry showcases some of the most peculiar killing tactics to ever hit Japanese cinema!
Presented on DVD and Blu-ray for the first time in the West, these thrilling genre films feature some of Nikkatsu's leading talent at the top of their game.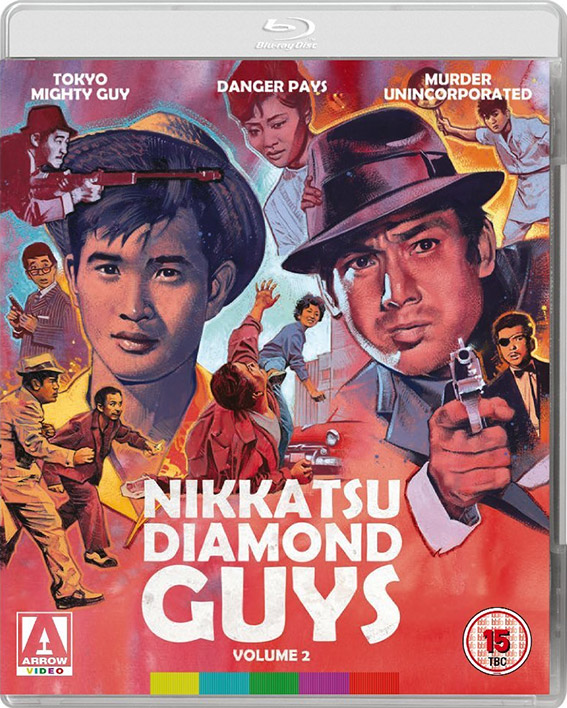 Nikkatsu Diamond Guys, Volume 2 will be released as a UK dual format (Blu-ray and DVD) on 13th June 2016 by Arrow Films at the RRP of £29.99.
Special Edition contents:
Limited Edition Blu-ray collection (3000 copies)
High Definition digital transfers of all three films in this collection, from original film elements by Nikkatsu Corporation
High Definition Blu-ray (1080p) and Standard Definition DVD presentation
Original uncompressed mono audio
Newly translated English subtitles
Specially recorded video discussions with Japanese cinema expert Jasper Sharp on Diamond Guys Jo Shishido and Akira Kobayashi
Original trailers for all three films
Extensive promotional image galleries for all films
Reversible sleeve featuring brand new artwork by Graham Humphreys
Booklet featuring new writing on all the films and director profiles by Stuart Galbraith IV, Tom Mes and Mark Schilling