Arrow's Nordic Noir & Beyond strand is continuing to grow from strength to strength as market leaders in releasing world class European TV shows to a wider audience. Following the success of The Bridge III, River and most recently Trapped, their dominance in the Euro-crime sector continues to help secure them as the No.1 Distributor of International TV series within the UK.
As 2016 continues, Nordic Noir and Beyond have announced the UK home entertainment release of The Fjällbacka Murders, 5 feature length dramas adapted from the internationally-acclaimed, blockbuster novels by bestselling Swedish author Camilla Läckberg, one of Europe's most successful crime writers.
The Fjällbacka Murders revolve around successful crime novelist Erica Falck (Claudia Galli) and the murderous goings-on in Fjällbacka, Sweden. Fjällbacka is a beautiful fishing village that is also Erica's hometown. It is here that she returns with her husband Patrick Hedström and their three children, with the plan to enjoy a quiet life in this idyllic setting. Except simmering beneath the serene beauty of the town are secrets and twisted desires that lie waiting to erupt into murder.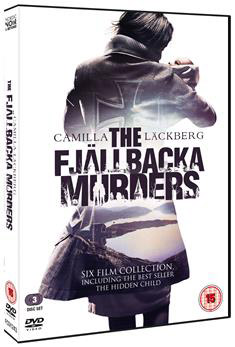 This new DVD release will include the hit film, The Hidden Child and arrives on UK DVD as a 3-disc set on 13th June 2016 from Arrow Films as part of their Nordic Noir & Beyond strand at the RRP of £19.99.
No extra features have been confirmed as yet.
Here's a trailer for The Hidden Child: