A disturbed, war-scarred crime reporter turns to illegal means in an attempt to generate news stories in The Warren Case, a gripping early-thirties thriller based on the acclaimed play by The Ghost Train's Arnold Ridley.
Chided by his boss for a conspicuous lack of sensational stories, Lewis Bevan takes matters into his own hands to revive his flagging career. When the fiancé of his boss's daughter, Mary, is implicated in the murder of a good-time girl, Bevan's run of sensationalist stories all but ensures the unfortunate man's guilt. Mary, however, suspicious of Bevan's extraordinary knowledge of the case, tries to persuade the police to investigate further.
Starring Richard Bird (I'll Walk Beside You) as the alcoholic criminologist with an axe to grind, The Warren Case was directed by Walter Summers, whose two-decade body of work includes acclaimed historical reconstruction The Battles of Coronel and Falkland Islands and pre-war shocker The Dark Eyes of London.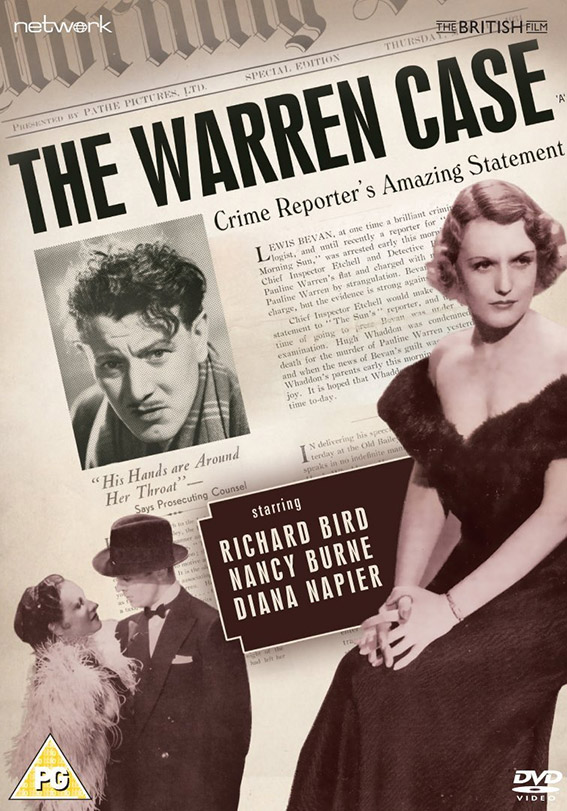 The Warren Case will be released on UK DVD on 30th May 2016 at the RRP of £9.99, courtesy of Network's 'The British Film' collection. It is featured here in a brand-new transfer from the original film elements in its as-exhibited aspect ratio.
Special features:
Image gallery

Original pressbook PDF