Arrow Films are to take their hugely successful international crime series Box Set business in a new direction with the acquisition of 2016 BAFTA nominated, Gaumont Television produced Narcos, A Netflix Original Series, which charts the rise of the infamous Colombian drug lord Pablo Escobar.
Dubbed "The King of Cocaine", Season 1 traces Escobar's rise to power between 1977 and 1992, a time in which he was responsible for smuggling 80 percent of the cocaine supply into the United States, making himself a billionaire in the process. The show was met with critical praise and grew a hugely dedicated following when it debuted on Netflix last August.
Escobar is portrayed by Brazilian actor Wagner Moura, who has won much international acclaim for his performance. Moura has previously been seen on screen in the Elite Squad films, with the sequel becoming the highest ever performing film at the Brazilian box office. His co-star's in Narcos are Boyd Holbrook, who recently signed to appear in the upcoming Wolverine movie as the film's lead villain and Pedro Pascal, who appeared in Game of Thrones.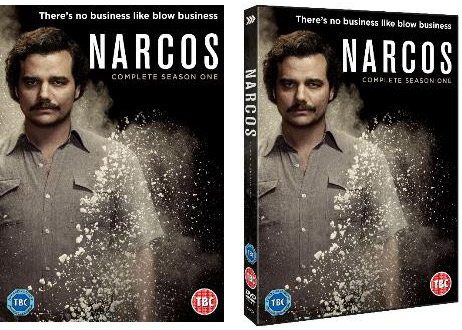 artwork tbc
Narcos – Season One is Arrow Films' most high profile series acquisition to date and the deal was secured with Gaumont last week. Arrow have also picked up the physical home entertainment rights to Season 2. Acquisitions Director Tom Stewart said of the series:
"Narcos is undoubtedly a bone-fide 'water-cooler TV' series that personifies the culture of compulsive Box-set 'binge' viewing and it will simply be a must own package for any self-respecting fan of International Television. We look forward to helping the show reach a wider UK audience ahead of the second series launch and are incredibly proud to be continuing our strong relationship with Gaumont, in what promises to be a thrilling ride ahead!"
The deal will see Arrow pick up all physical home entertainment rights for the TV show within the UK. The Blu-ray and DVD will be released towards the end of August. Arrow will also release the series as a special edition steelbook.
Following the success of The Bridge III, River and most recently Trapped, the acquisition of Narcos further secures Arrow's position as the undisputed No.1 Distributor of International TV series within the UK.
Further releases in 2016 include Follow the Money (Denmark), Hinterland Season 2 (Wales), Gomorrah 2 (Italy), The Legacy 3 (Denmark), Modus (Sweden) and The Disappearance (France).
Full details will follow closer to the release date.