Joan Collins (Dynasty), James Booth (Zulu) and Sinéad Cusack (V For Vendetta) star in this sensational, X-rated 1971 thriller in which an ordinary family turn to vigilante justice in the wake of their daughter's murder.
Publicans Carol and Jim Radford learn that a reclusive local man suspected of raping and murdering their ten-year-old daughter has been released due to insufficient evidence. Heartbroken and hungry for vengeance, Jim hatches a chilling plan to force a confession from the suspect: abducting and imprisoning him in the pub's cellar, he will become judge, jury and – if necessary – executioner.
With taut direction from Sidney Hayers (Circus of Horrors) and a tense script from The Saint screenwriter John Kruse, Revenge was a notable success in both Britain and the USA; it is featured here in a brand-new High Definition transfer from the original film elements in its original theatrical aspect ratio.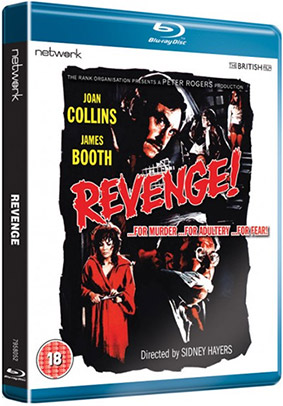 Revenge (also know variously in the US as Inn of the Frightened People, Inn of the Frightened People and Terror from Under the House) will be available to own from 30th May 2016 on Blu-ray at the RRP of £14.99 and DVD at the RRP of £9.99, courtesy of Network's 'The British Film' collection.
Special features: