Gary Oldman's performance as football hooligan Bex Bissell in The Firm (Alan Clarke, 1989) is still one of his most mesmerising and memorable. On 23rd May 2016 the film will be released by the BFI in a Special Collector's Edition on Blu-ray and DVD. Each set will contain both the original broadcast version and a Director's Cut which restores previously unseen material. Extensive extras include a newly recorded audio commentary with Gary Oldman, the High Definition premiere of director Alan Clarke's celebrated Elephant (1989) and a new documentary about the making of Elephant and The Firm.
In The Firm, Bex Bissell, wages bloody war against rival gangs to decide who will lead a national 'firm' into Europe to do battle on an international playing field. The film co-stars Phil Davis and Lesley Manville.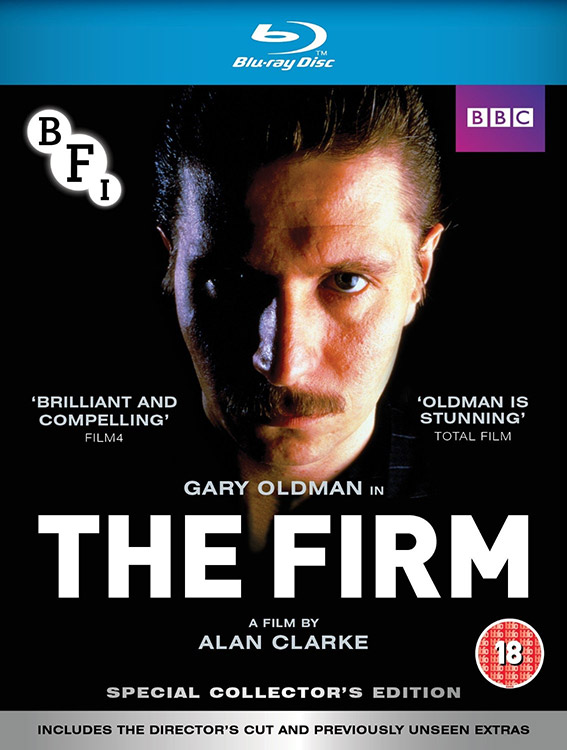 The Firm will be released on UK Blu-ray and DVD on 23rd May by the BFI as a Special Collector's Edition at the RRP of £19.99 for either the Blu-ray or the DVD version.
Special features:
The Firm (Director's Cut, 68 mins): painstakingly reconstructed from Clarke's personal workprint
Optional audio commentary with Gary Oldman

The Firm (Broadcast version, 67 mins)

Optional audio commentary with actors Lesley Manville, Phil Davis, author David Rolinson and the BFI's Dick Fiddy

Elephant (1989, 39 mins): Alan Clarke's sparse, shocking drama about The Troubles

Optional audio commentary on Elephant with producer Danny Boyle and critic Mark Kermode

Alan Clarke interview (1989, 10 mins): the director discusses Elephant and The Firm

Alan Clarke: Out of His Own Light (2016, 36 mins): new documentary about the making of Clarke's last films