Studiocanal has announced the new Blu-ray, DVD and EST release of the 1945 Ealing drama Pink String and Sealing Wax, which has been meticulously restored from its original negatives in 2K to commemorate the 2017 centenary of Googie Withers and more than 70 years since the film was first seen on UK cinema screens.
Based on the play by Roland Pertwee and with an all-star cast including Mervyn Johns, Googie Withers, Gordon Jackson, Jean Ireland, Mary Merall and Sally Ann Howes, Pink String and Sealing Wax is the solo directorial debut from Ealing Studios regular Robert Hamer (Kind Hearts And Coronets).
Set in Victorian Brighton, this roaring melodrama sees the much-loved Googie Withers (The Lady Vanishes, One Of Our Aircraft Is Missing) as femme fatale Pearl Bond, a frustrated innkeeper's wife who turns to extreme measures in order to escape her husband's grasp. Tired of her drunk and abusive husband, Pearl befriends David (Gordon Jackson – The Great Escape, The Ipcress File), the son of overbearing patriarch and respected chemist Edward Sutton (Mervyn Johns – Went The Day Well?, Dead Of Night), who, oblivious to her manipulative ways, is unknowingly ensnared into a world of murder, blackmail and betrayal.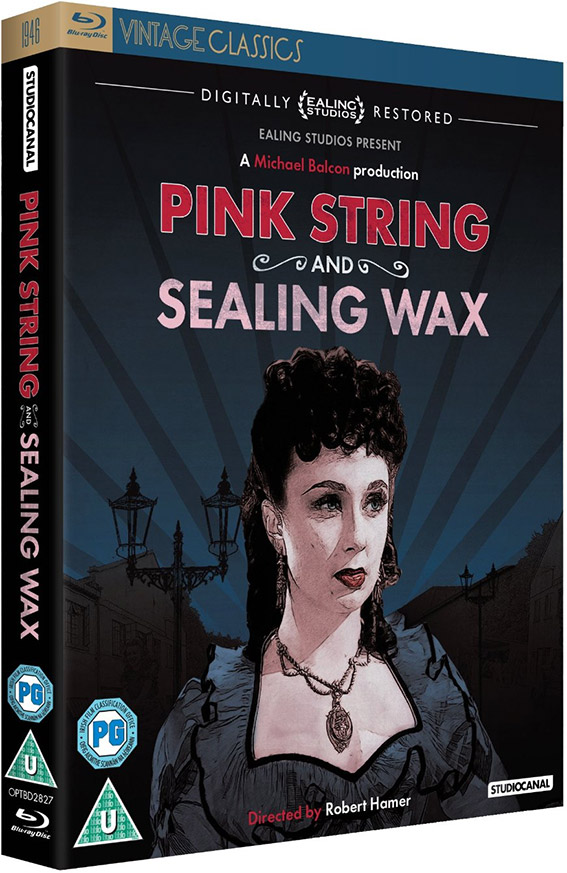 Pink String and Sealing Wax will be released in the UK on DVD, EST and for the first time on Blu-ray on 25 April 2016 by Studiocanal at the RRP of £22.99 for the Blu-ray and £17.99 for the DVD.
Special features:
Interview with Joanna McCallum (Googie Withers' daughter)

Interview with Melanie Williams (focusing on Women at Ealing)

Behind the Scenes stills gallery

Restoration comparison
Pink String and Sealing Wax is part of the 'Vintage Classics collection' – showcasing iconic British films, all fully restored and featuring brand new extra content: www.facebook.com/vintageclassicsfilm
The Digital Film restoration was funded by Studiocanal in collaboration with the BFI's Unlocking Film Heritage programme (awarding funds from the National Lottery).