Studiocanal have announced the Home Entertainment release of the critically acclaimed & award-winning The Assassin [Nie yin niang], the latest film from director Hou Hsiao-Hsien (Café Lumière, Three Times). Awarded the Best Director prize at Cannes Film Festival, followed by a BAFTA nomination for Best Film Not In The English Language, it was chosen as the top film of 2015 in the Sight & Sound annual critics poll.
The Assassin has been lauded as the result of a renowned filmmaker at the peak of his powers. The first foray into the 'Wuxia' Martial Arts genre by the legendary Hou Hsiao-Hsien, the saga transports the viewer into a lavish spectacle of courtly intrigue, love, honour and power in Tang dynasty China. The magnetic Shu Qi (Millennium Mambo, The Transporter) continues her regular collaboration with Hou to play Nie Yinniang, the eponymous 'Assassin' of the story, adapted from a traditional Chinese folk tale of a young girl raised as a killer.
Abducted by a sisterhood of nuns as a young girl, she is initiated into the warrior arts and transformed into an exceptional assassin charged with eliminating cruel and corrupt local governors. One day, having failed to complete a mission due to her empathy for the young child of the victim, her mistress the princess-nun Jiaxin, later revealed to be her maternal aunt, punishes her for the 'weakness' she perceives in her sentiment by sending Yinniang back to the land of her birth, Weibo. She has orders to kill the man to whom she was once promised – Tian Ji'an, a cousin who now leads the province, the largest military region in North China. After 13 years of exile, Yinniang must now confront her parents, her memories and her long-repressed feelings. A slave to the orders of her mistress, Yinniang must negotiate the machinations of Lord Tian's court – including the rivalry between his ruthless wife and more gentle concubine – and choose to either sacrifice the man she still loves or break forever with the sacred way of the righteous assassins.
Director Hou Hsiao-Hsien is a leading figure in World Cinema and the Taiwanese New Wave movement, his films being awarded top prizes from prestigious international festivals such as Venice Film Festival, Cannes Film Festival and Berlin Film Festival. Six of his films have been nominated for the Palme D'Or at the Cannes Film Festival. The Assassin is his largest scale work to date and brings vividly to life the sumptuous colours, sights, costumes and landscapes of Ancient China. With its complex and compelling female heroine and central characters it has also been highly praised as a 'feminist' take on the Martial Arts genre.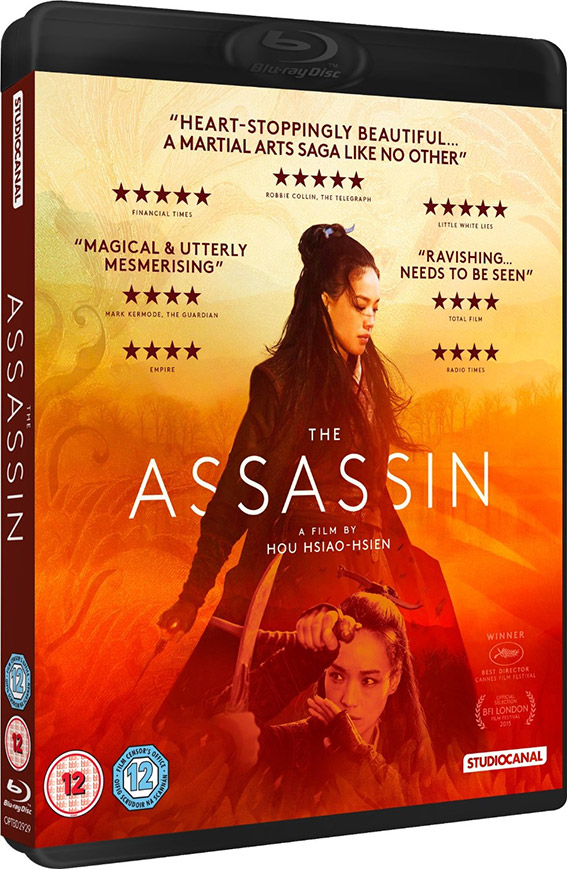 The Assassin will be released in the UK on Digital HD on 16th May 2016, and on Blu-ray and DVD on 23rd May 2016 by Studiocanal at the RRP of £24.99 for the Blu-ray and £19.99 for the DVD.
Special features:
Behind the scenes: Nie Yinniang

The Actors: No rehearsals

The Fights Between Masters

A Time Machine to the Tang Dynasty