Long considered lost, with a place on the BFI's 'Most Wanted' lost films list, sophisticated modern gothic horror story Symptoms was the British Palme d'Or entry at the 1974 Cannes Film Festival, but it slipped into obscurity soon after. The BFI found the original negatives in 2014, enabling the film to be restored by Cinematek, Belgium. Now a world-premiere Dual Format Edition will be released by BFI Flipside on 25th April 2016.
A stack of extras includes interviews with Angela Pleasence, Lorna Heilbron, editor Brian Smedley-Aston and two documentaries about Larraz and his work.
A young woman (Lorna Heilbron) is invited to stay at the remote country mansion belonging to her girlfriend (Angela Pleasence). But the peaceful retreat is interrupted by the menacing presence of the local gamekeeper (Peter Vaughan) and events soon take a disturbing turn.
To celebrate the miraculous discovery of Symptoms, a special cinema screening will take place in NFT1 at BFI Southbank on Wednesday 13th April at 8.45pm with an introduction by editor Brian Smedley-Aston. Tickets are still available. Details at www.bfi.org.uk/whatson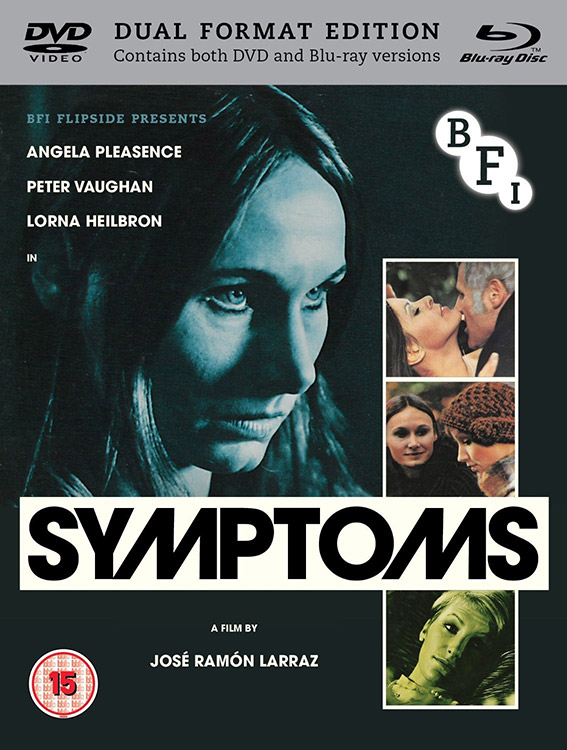 This World Premiere Edition of Symptoms will be released on UK dual format (Blu-ray and DVD), newly remastered in 2K and presented in both High Definition and Standard Definition, on 25th April 2016 by the BFI as part of their Flipside strand.
Special features:
From Barcelona... to Tunbridge Wells: The films of José Larraz (Andy Starke and Pete Tombs, 1999, 24 mins): career retrospective documentary, featuring interviews with Larraz, Brian Smedley-Aston and Marianne Morris

On Vampyres and other Symptoms (Celia Novis, 2011, 74 mins): feature-length documentary focusing on two of Larraz's most acclaimed films

An Interview with Angela Pleasence (2016, 10 mins): revealing new interview with the star of Symptoms

An Interview with Lorna Heilbron (2016, 18 mins): the film's co-star recalls her time working with Angela Pleasence and José Larraz

An Interview with Brian Smedley-Aston (2016, 17 mins): the Symptoms editor discusses his life in film

Original theatrical trailer

Illustrated booklet with essays and film credits
And here's an extract: