Eureka Entertainment to release Enemy Mine, director Wolfgang Petersen's visually stunning futuristic science fiction adventure starring Dennis Quaid and Louis Gosset Jr., on Blu-ray for the first time in the UK on 20th June.
From director Wolfgang Petersen (Troy, Das Boot, The Never Ending Story) comes a tale of two enemies thrown together in a hostile world where to survive they must become allies.
A soldier from Earth crash-lands on an alien world. Eventually he encounters another survivor, but from the enemy species he was fighting; they band together to survive on this hostile world. In the end the human finds himself caring for his enemy in a completely unexpected way.
Starring Dennis Quaid (The Right Stuff, The Day after Tomorrow) and Academy Award Winner Louis Gosset Jr. (An Officer and a Gentleman) this science fiction adventure is a tale of an unexpected friendship and newly found respect. Eureka Classics present the film in high-definition for the first time in the UK in a special edition Blu-ray.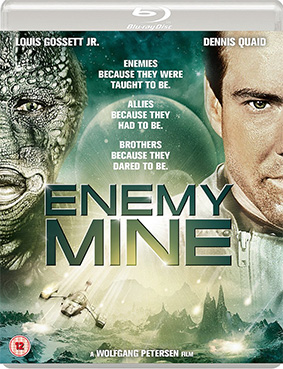 Enemy Mine will be released on UK Blu-ray on 20th June 2016 by Eureka Entertainment at the RRP of £17.99.
The only listed special feature at present is a trailer, but it's possible that could change.