From the Academy Award-nominated writer and director Tobias Lindholm (A Hijacking, screenplay for The Hunt), A War tells the story of company commander Claus Michael Pedersen.
(Pilou Asbæk – Ben-Hur, The Borgias, A Hijacking) and his men who are stationed in an Afghan province. Meanwhile back in Denmark Claus' wife Maria (Tuva Novotny – Eat Pray Love, Possession) is trying to hold everyday life together with a husband at war and three children missing their father. During a routine mission, the soldiers are caught in heavy crossfire and in order to save his men, Claus makes a decision that has grave consequences for him – and his family back home.
A War continues to receive international recognition and acclaim. The film was nominated for Best Foreign Language Film at the 88th Academy Awards and screened in Official Selection at the Venice, Zurich and Zagreb Film Festivals.
Kathryn Bigelow, director of Zero Dark Thirty and The Hurt Locker, describe dthe film thus: "Utterly gripping and explosive. Tobias Lindholm expertly crafts an immersive and psychological examination of the moral challenges of war. Unforgettable."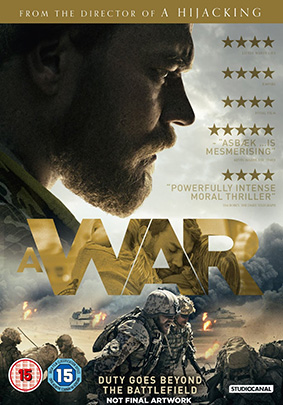 A War will be released on Digital Download on 2nd May 2016 and on UK Blu-ray, DVD and VOD on 9th May 2016 at the RRP of £19.99 for the DVD and £24.99 for the Blu-ray.
No details have yet emerged of any special features.