Intense and intriguing, Ritual begins with a disorientated man digging himself out of a shallow grave and builds to a shocking reveal. Fogged with amnesia and caught in a deadly survival game, he must quickly piece together his last 24 hours, before a menacing figure with a machete hunts him down.
Following the release of The Raid in 2011, Indonesian genre cinema has been put firmly on the map, with filmmaker Joko Anwar (The Forbidden Door, Halfworlds for HBO) at the forefront of the scene. Ritual is his English language debut, a brutal 'puzzle movie' that puts an innovative twist on the survival horror genre.
A man wakes up buried alive in a dense forest. Unable to remember who he is or how he got there, he stumbles frantically searching for answers. After taking refuge in a remote cabin, he discovers a macabre videotape that triggers his memory of a family holiday, turned nightmare and he sets out on a desperate search to find his two missing children. But his search reveals unsettling clues and the terrifying truth that he is not alone. Lost in the woods and hunted by a machete-wielding killer, he must unravel the mystery before time runs out.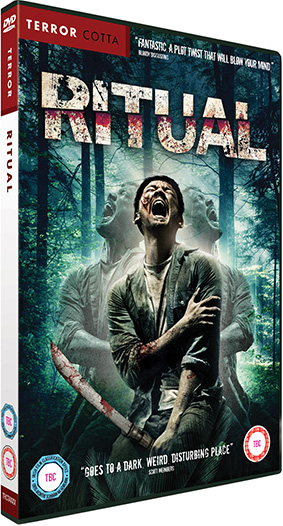 Described by FEARnet as "a cross between Funny Games and a brutal episode of The Twilight Zone," Ritual will be released on UK DVD on 16th May 2016 by Terror Cotta at a yet to be confirmed RRP.
Special features have also yet to be confirmed.