Two childhood friends, trained in deadly martial arts, are the only survivors of a massacre; when one of them stumbles into a portal to Hell, the lord of the underworld grants him magical powers and an opportunity for revenge if he allows the unruly 'Nine Demons' to enter his body. Returned to the land of the living he sets out to rescue his friend and avenge his family's murder, but will the power of the Nine Demons prove too strong for this kung fu master to control?
The film was directed by legendary Shaw Brothers' director Chang Cheh, whose credits include Five Deadly Venoms, The One Armed Swordsman, Five Element Ninjas, Crippled Avengers and The Shanghai 13. It stars Sheng Chiang, Feng Lu, Tien Chi Cheng, Chung Yi Li and Tai-ping Yu.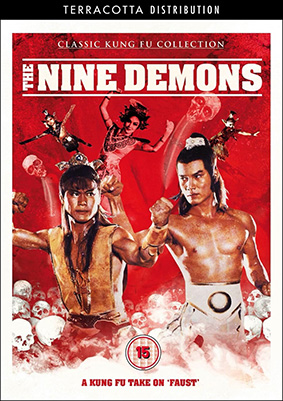 The Nine Demons [Jiu zi tian mo] makes its UK DVD debut on 25th April 2016 from Terracotta Distribution at a yet to be confirmed RRP.
The film has been remastered and English subtitles improved, and for those who enjoy a slice of '80s kung fu nostalgia, this release also includes the film in its original version with an old school English dub.
Special features: