Eureka Entertainment are to release Kiyoshi Kurosawa's Journey to the Shore [Kishibe no tabi], a beautifully shot supernatural love story, for the first time anywhere in the world in a Dual Format (Blu-ray & DVD) edition as part of the Masters of Cinema Series in May.
Mizuki's husband, Yusuke, drowned at sea three years ago. When he suddenly comes back home, she is not that surprised, instead, Mizuki wonders what took him so long. Together they embark on a journey to meet the people who helped him on his journey in a world where the living and the dead coexist in an almost normal manner.
Starring two of Japan's biggest actors, Tadanobu Asano (Survive Style 5+, Vital) and Eri Fukatsu (A Ghost of a Chance, Villain), Kurosawa's film is a beautifully shot love story that challenges our usual conceptions of life, death and half-life, and was winner of the Un Certain Regard Best Director award in Cannes.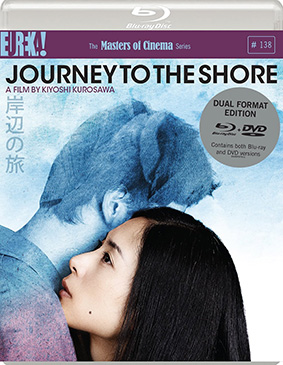 Journey to the Shore will be released in the UK as a dual format edition (Blu-ray and DVD) on 23rd May 2016 by Eureka Entertainment as part of the Masters of Cinema series at the RRP of £19.99.
Released specifications:
Stunning 1080p transfer of the film it its original aspect ratio

Optional English subtitles
Special features:
Theatrical Trailer

Additional video extras to be announced, including a new interview

Accompanying Booklet containing a statement from Kurosawa on the film and new writing