In a kill-or-be-killed world where starvation is rife and strangers are always dangerous, The Survivalist lives off the grid, and by his wits. When a starving woman and her teenage daughter discover his forest refuge, his loneliness drives him to strike a bargain with them in return for bed and board. But as desire becomes stronger than necessity, the exchange becomes an uneasy, ongoing arrangement which threatens not only his carefully constructed world but also his life.
A captivating thriller, The Survivalist marks the feature debut of writer-director Stephen Fingleton. Hailed by Indiewire as "Mad Max in the countryside," the film boasts stellar performances from Martin McCann ('71, Shadow Dancer, X+Y), Mia Goth (Nymphomaniac Part II, A Cure For Wellness, and just announced to star in Clare Denis' English-language debut High Life opposite Robert Pattinson) and Olwen Fouéré (This Must be the Place).
The Survivalist was produced by Wayne Marc Godfrey (Silence, Cake), Robert Jones (The Usual Suspects, Babylon) and David Gilbery (Bone Tomahawk) through The Fyzz Facility. Shot in Northern Ireland the film was financed by The Fyzz Facility, BFI and Northern Ireland Screen in association with Goldcrest.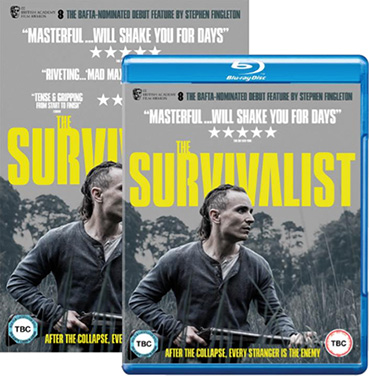 Nominated for best Debut Feature at this year's BAFTA Awards and winner of best Debut Director at the 2015 British Independent Film Awards, The Survivalist will be released on UK DVD, Blu-ray and Digital HD by Bulldog Film Distribution on 18th April 2016 at the RRP of £17.99 for the DVD and £19.99 for the Blu-ray.
Special features:
4 short films – Magpie (16 mins); Insulin (11 mins); Awaydays (11 mins); The Making of the Survivalist (21 mins)