Today Arrow Video announced on Twitter their UK Blu-ray and DVD releases for June 2016, and there are another three must-haves here: Nikkatsu Diamond Guys Vol 2, Suture and cult favourite Return of the Killer Tomatoes. Details of each are below.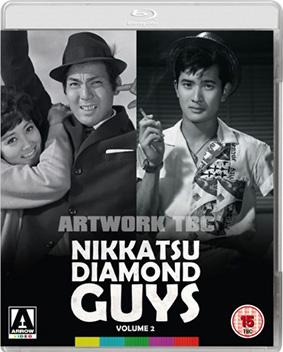 Nikkatsu Diamond Guys Vol 2 – Release date: 14th June
Nikkatsu, the oldest film studio in Japan, inaugurated a star system in the late 1950s, finding talent and contracting them to a series of wild genre pictures. This collection celebrates these "Diamond Guys" with three classic films from directors Buichi Saito (Lone Wolf and Cub: Baby Cart in Peril), Ko Nakahira (Crazed Fruit), and Haruyasu Noguchi, who is a new discovery for the West.
In Saito's Tokyo Mighty Guy, mega star Akira Kobayashi stars as Jiro in the rambunctious tale of a chef who opens a restaurant in the busy Ginza district. His culinary skills and dashing good looks bring in the women as well as unwanted trouble, while an explosive political scandal builds around his girlfriend's business…
Next, Jo Shishido (Massacre Gun, Retaliation), one of the most popular Diamond Guys in the West, stars in Danger Paws, a crime caper from Ko Nakahira about counterfeiting. When one billion yen goes AWOL, "Joe the Ace" (Shishido) spies an opportunity to get rich quick, but things soon go wrong as it turns out he isn't the only one who'll stop at nothing to get his hands on the missing cash…
Finally, Shishido stars once again in Noguchi's screwball classic Murder Unincorporated. When the mysterious "Joe of Spades" executes one of the bosses of a powerful syndicate, his colleagues, fearing for their own lives, call on the services of assassin agency Murder Unincorporated to take care of the problem. This unique entry showcases some of the most peculiar killing tactics to ever hit Japanese cinema!
Presented on DVD and Blu-ray for the first time in the West, these thrilling genre films feature some of Nikkatsu's leading talent at the top of their game.
Special Edition contents:
Limited Edition Blu-ray collection (3000 copies)

High Definition digital transfers of all three films in this collection, from original film elements by Nikkatsu Corporation

High Definition Blu-ray (1080p) and Standard Definition DVD presentation

Original uncompressed mono audio

Newly translated English subtitles

Specially recorded video discussions with Japanese cinema expert Jasper Sharp on Diamond Guys Jo Shishido and Akira Kobayashi

Original trailers for all three films

Extensive promotional image galleries for all films

Reversible sleeve featuring brand new artwork by Graham Humphreys

Booklet featuring new writing on all the films and director profiles by Stuart Galbraith IV, Tom Mes and Mark Schilling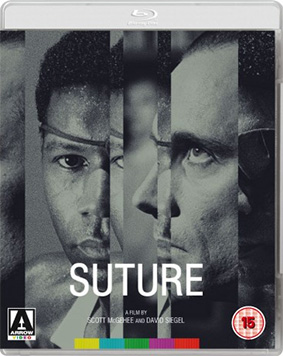 Suture (1993) – Release date: 20th June
Inspired by the paranoid visions of John Frankenheimer's The Manchurian Candidate and Seconds, the desert noir of Detour and the black and white widescreen beauty of Hiroshi Teshigahara's The Face of Another and Woman of the Dunes, Suture is one of great feature debuts – by writer-directors David Siegel and Scott McGehee – and a truly unique piece of cinema.
The wealthy and self-assured Vincent (Michael Harris) meets his blue collar half-brother Clay (Dennis Haysbert) at their father's funeral and is struck by their similarity. He decides to murder Clay and take his identity, only Clay survives the assassination attempt with no memory and is mistaken for Vincent. The fact that Harris is white and Haysbert is black only complicates a film that probes into the nature of identity.
After viewing an early rough cut, Steven Soderbergh came on board as executive producer and enthusiastic patron. Suture went on to become a hit on the festival circuit, including Sundance where it deservedly won the award for Best Cinematography.
Director-Approved Special Edition contents:
Brand new 4K restoration from the original camera negative

High Definition (1080p) and Standard Definition DVD Presentations

Optional English subtitles for the deaf and hard-of-hearing

Audio commentary with writer-directors David Siegel and Scott McGehee

All-new interviews with Siegel, McGehee, executive producer Steven Soderbergh, actor Dennis Haysbert, cinematographer Greg Gardiner, editor Lauren Zuckerman and production designer Kelly McGehee

Deleted scenes

Birds Past, Siegel & McGehee's first short film, about two young San Franciscans who journey to Bodega Bay along the path set by Tippi Hedren in Hitchcock's classic, The Birds.

US theatrical trailer

European theatrical trailer

Reversible sleeve featuring original and newly commissioned artwork by maarko phntm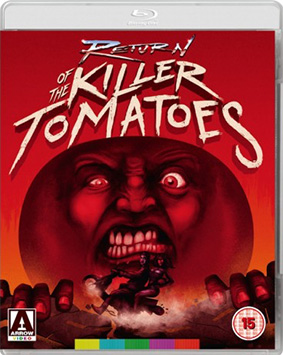 Return of the Killer Tomatoes (1988) – Release date: 27th June
The killer tomatoes are back! But this time around, they're going to have to contend with late '80s George Clooney and his wicked mullet… Is it a fruit? Is it a vegetable? Nope, it's Return of the Killer Tomatoes!
Ten years on from the Great Tomato War, mankind lives in fear of another uprising by the waxy red menace. Meanwhile, Professor Gangreen – played with gusto by the late, great John Astin from TV's The Addams Family – sets out to pursue his own evil ends by creating a burgeoning army of tomato militia men (who, somewhat conveniently, look just like regular men).
Following on from the 1978 cult classic Attack of the Killer Tomatoes, Return of the Killer Tomatoes came armed with a healthy sense of its own ridiculousness and would expand upon a franchise that now comprises four films, two TV series and a video game. So what are you waiting for? Make Return of the Killer Tomatoes one of your five-a-day now!
Special Edition contents:
High Definition Blu-ray (1080p) and Standard Definition DVD presentations
Original Stereo audio (uncompressed PCM on the Blu-ray)
Optional English subtitles for the deaf and hard of hearing
Brand new audio commentary with writer-director John De Bello
Brand new interview with star Anthony Starke
Original Theatrical Trailer
Reversible sleeve featuring original and newly commissioned artwork by Matthew Griffin
Fully-illustrated collector's booklet featuring new writing by critic James Oliver
Full details of each title will be confirmed nearer the release dates.