Winner of Best Picture and Original Screenplay at the 2016 Academy Awards and winner of the BAFTA for Original Screenplay, Spotlight is the gripping true story behind a child abuse scandal that shook the world, featuring outstanding performances from a group of exceptional leading cast members: Michael Keaton, Mark Ruffalo, Rachel McAdams, Liev Schreiber and Stanley Tucci.
Spotlight is the tense true-crime thriller based on the enthralling Pulitzer Prize-winning investigation. Led by Walter 'Robby' Robinson (Michael Keaton), the team of investigative journalists at The Boston Globe, known as 'Spotlight', pride themselves on their relentless dedication to exposing the truth of society's ills and bringing the guilty to account.
Under the direction of a new editor Marty Baron (Liev Schreiber), the team uncover a scandal deep within the Catholic Church and the willful ignorance of those in power who have done nothing to stop it. Facing political opposition and resistance from the far-reaching influences of the Church, the reporters put together an explosive exposé revealing that truth is much darker than they could have ever imagined.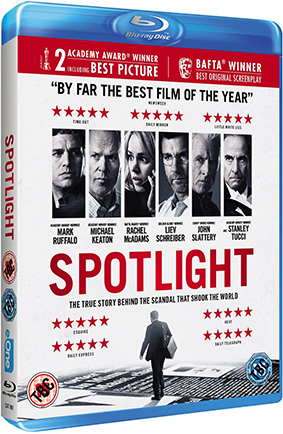 Spotlight will be released on UK Blu-ray, DVD and download on 23 May 2016 by Entertainment One at the RRP of £24.99 for the Blu-ray and £19.99 for the DVD.
Special features: