Two professional con artist sisters Lisa and Claire go on the run after being caught trying to steal a JCB. They decide to lie low by assuming the identities of the owners of their escape vehicle and become The Wilding Sisters, guest stars of the Poet's Poetry Society retreat in the depths of the Black Mountains. Thinking this will be an easy task, they don't count on the presence of handsome poet Richard and his jealous girlfriend Louise. Competing for a large cash prize, the two sisters are forced to confront not only their relationship but also their place in the world. Can they survive the competition and learn to appreciate the powerful beauty of the Black Mountains?
A comedy about getting back to where you once belonged, Black Mountain Poets was written and directed by Jamie Adams (Benny & Jolene) and stars Alice Lowe (Sightseers, This Is Jinsy), Dolly Wells (Bridget Jones's Diary, Morvern Callar) and Tom Cullen (Downton Abbey, The Trials of Jimmy Rose).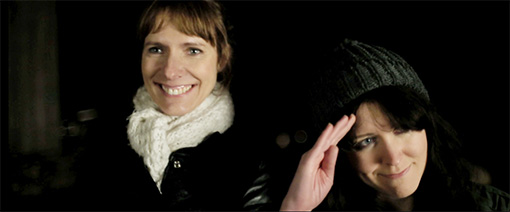 Black Mountain Poets will be released on UK DVD on 25th April by Metrodome at a yet to be confirmed retail price.
Special features: