Fire City: End of Days is a noirish fantasy thriller about a hard-boiled demon named Vine, who must investigate the appearance of a mysterious Dark Figure when the fragile balance is broken between the humans in his tenement and the demons who secretly live among them. As his fellow demons are attacked, Vine discovers he himself is the cause of the catastrophe and must choose between saving his own kind from extinction and killing an innocent human girl to whom he has become attached.
Directed by Tom Woodruff Jr., award-winning makeup effects, creature designer and/or special effects designer on the likes of Tremors, Jumanji, Starship Troopers and the upcoming Batman v Superman: Dawn of Justice, Fire City: End of Days stars Tobias Jelinek (Hocus Pocus), Danielle Chuchran (The Cat in the Hat) and Keely Aloña and Kimberly Leemans.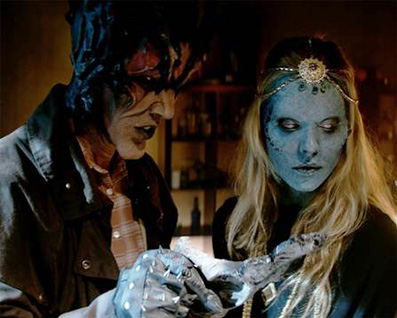 Fire City: The End of Days will be released on UK DVD on 25th April 2016 by Metrodome at an RRP that remains unconfirmed at this juncture.
No special features have been confirmed.