From the makers of The Girl With The Dragon Tattoo and best-selling author Jo Nesbø comes the new Nordic sensation, political suspense thriller Occupied [Okkupert]. Currently screening on Sky Arts as its top rated programme, this action-packed hit drama arrives on Blu-ray and DVD next month courtesy of Dazzler Media.
Set in the not so distant future where climate change has brought Europe to the brink of war, Henrik Mestad (Lilyhammer) stars as environmentally friendly prime minister Jasper Berg. He has convinced his voters that the best way to tackle climate change is to halt all oil production in Norway, sending the country and the rest of the world into crisis.
Unable to ignore calls from the rest of the world to intervene, Russia, at the behest of the EU, stages a 'silk-glove' invasion – to secure the oil for the rest of the world. They have, they say, every intention of retreating once this has been accomplished. But it's not long before events unfold that threaten to change everything.
Based on an idea by Jo Nesbø (Headhunters), this gripping, multi-layered 10-part series examines what happens to a nation under occupation, and explores the themes of loyalty to oneself, one's family and one's country. Also starring Vegar Hoel (Hansel & Gretel: Witch Hunters) and Ingeborga Dapkunaite (Mission: Impossible), Occupied is a stylish and extremely topical drama with high production values, that has continued to obtain impressive ratings including doubling Sky Arts channel average on its launch.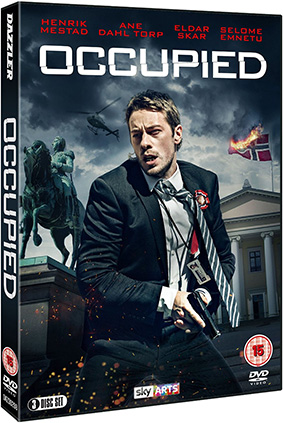 Occupied, Season 1 comes to UK Blu-ray and DVD on 21st March from Dazzler Media at the RRP of £34.99 for the 3-disc Blu-ray set and £29.99 for the 3-disc DVD set.
No extra features have been listed.