Three kids skip school in order to explore an abandoned amusement park when they stumble upon the horrific acts of a twisted murderer disguised in a clown mask. Terrified by what they saw and the thought that the man will come after them, the boys alert the police. But their pleas for help fall on deaf ears and soon it is not only their own lives that are in danger, but those of their families as well.
Among the Living [Aux yeux des vivants] is the third feature from writer-directors Alexandre Bustillo and Julien Maury, who made quite an impact with their traumatic debut Inside and did rather well with the intriguing follow-up Livid. At present they are helming the Texas Chain Saw Massacre prequel Leatherface.
If you're looking for a reccomendation, try this from Twtch Film: "The tension in Among The Living is so thick that it spawned collective coping mechanisms, wherein neighboring strangers locked eyes when they couldn't bear to look at the screen any longer. The fear in the room was palpable as audience gasps and audible cringes fed off one another, heightening the shared discomfort." Works for me.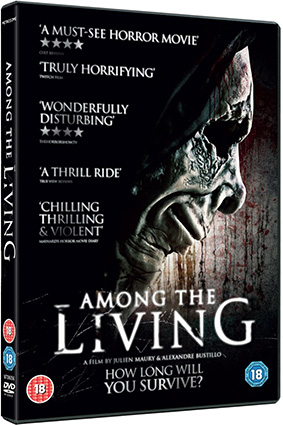 Among the Living will be released on UK DVD on 7th March 2016 by Metrodome at the RRP of £14.99.
No special features have been announced.