As a young man isolated in his efforts to hide his Tourette's, Vincent is suddenly forced into the world when his mother passes away. Vincent finds himself at a center for those dealing with similar psychological disorders after his absent father sends him away to avoid responsibility and any disruption in the midst of his political campaign. There, he meets his roommate, Alex, who is anything but pleased to share his space which is kept in perfect order because of his OCD. Feeling more alone than ever, Vincent finds a friend in Marie, who has made her return to the center because of her anorexia.
Together, Vincent and Marie set out to escape the center run by Dr. Rose, and steal her car in the process. But nothing is easy for Vincent and as he and Marie are about to set out on their drive to the ocean to spread his mother's ashes, Alex stops them in their tracks, threatening to end the trip before it begins. Instead, Alex finds himself kidnapped and a backseat passenger on a three day journey that becomes a life changing experience none of them saw coming. With Dr. Rose and Vincent's father in pursuit, the three young adults find they're perfectly capable of living their lives according to their own rules, while breaking some others in the meantime.
A coming of age road comedy in the vein of Little Miss Sunshine, first time director Gren Wells adapts an honest script based on the original German feature, Vincent Wants to Sea [Vincent will Meer]. The result, The Road Within, brings humor and poignancy to the story of three young adults searching for their own version of life. Robert Sheehan (Vincent), Dev Patel (Alex) and Zoë Kravitz (Marie) star alongside Kyra Sedgwick (Dr. Rose) and Robert Patrick (Robert) in the film which hits close to home for Wells.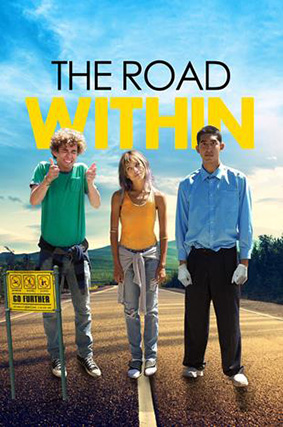 The Road Within is released today on digital platforms only in the UK by Arrow Films, and is available to rent on iTunes for £4.49 and to buy for £7.99.
Here's a trailer: