Down on his luck film director Emil Forrester (Matthew Macfadyen) is unexpectedly invited to attend a retrospective of his work at The Karastan International Film Festival. On his arrival, the country's benign yet massively corrupt President Aleluyev (Richard van Weyden) persuades him to direct an epic retelling of the story of the medieval hero and founder of the country, Australia's greatest action hero and renowned drunk Xan Butler (Noah Taylor) set to star.
Faced with the challenge of a large-scale production, Forrester is dangerously out of his depth, confused by the Karastan politics and the seductive charm of the beautiful Chulpan (MyAnna Buring), whose relationship with Aleluyev adds extra complications. With local wrangler Ruslan (Lasha Ramishvili) taking them to remote locations, he finds local villagers 'encouraged' by soldiers to take on various roles. Is he directing himself to a career best or will it be an epic disaster for everyone concerned?
Lost in Karastan is a satirical black comedy written and directed by Ben Hopkins (The Nine Lives of Thomas Katz) and co-written by Academy-Award winner, Pawel Pawlikowski (Ida, My Summer of Love). Its international cast includes Matthew Macfadyen (Ripper St, TV's The Three Musketeers, Anna Karenina), MyAnna Buring (Ripper St, Kill List, Twilight Saga: Breaking Dawn pts 1 & 2), and Noah Taylor (Shine, Submarine, Peaky Blinders). Shot on location in Georgia, it offers a darkly humorous look at the film industry in the tradition of The Stunt Man and Bowfinger.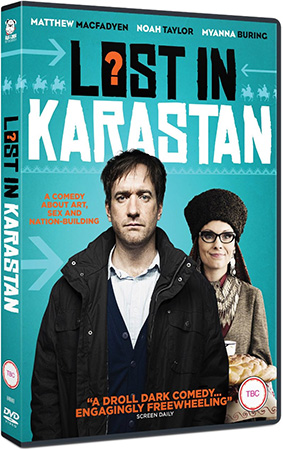 Lost in Karastan will be releaesd on UK DVD on 29th February 2016 by Bulldog Film Distribution at the RRP of £12.99.
No special features have been listed.