An aging priest and his granddaughter Alba roam the darkest corners of Spain as travelling exorcists, violently exorcising children, mental patients and drug addicts of a malevolent infestation. They pass through desolate, sun-bleached landscapes and long-abandoned buildings, ridding the afflicted of this unholy epidemic while counting down the days to a mysterious resurrection. Pursued by a shadowy cult with a sinister agenda, the duo discover that a mystery from Alba's past may hold the key to salvation... or open the door to an unspeakable evil.
From the disturbing opening scenes of a possessed mother giving birth, to the gruesome revelations in a grimy mental asylum, Asmodexia draws from occult classics The Exorcist, Rosemary's Baby and Spanish horror franchise REC, but brings a new twist to the exorcism sub-genre.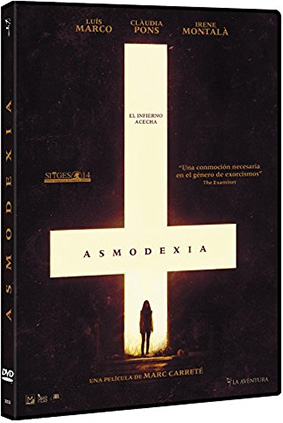 Directed by Marc Carreté and described by UK Horror Scene as "wonderfully blasphemous" and Dread Central as a film that "will chill you to the bone," Asmodexia will be released on UK DVD on 28 March 2016 by Sharp Teeth Films at the RRP of £12.99.
Special features have yet to be confirmed.