The first of six new BFI home entertainment releases for next month is Chen Kaige's sumptuous and moving epic, Farewell My Concubine (1993). This multi-award-winning exploration of art, friendship and betrayal, set against the tumultuous backdrop of more than 50 years of Chinese history, will be released on Blu-ray and DVD in a Dual Format Edition next month. It also contains the documentary The Making of Farewell My Concubine (2003).
Farewell My Concubine charts the relationship between Cheng (Leslie Cheung) and Duan (Zhang Fengyi), two stars in the Peking Opera troupe, and the woman who comes between them. Chen Kaige's sumptuous and moving epic holds an important place in the history of Chinese-language cinema. Recognised with more than twenty major awards, including a Golden Globe, a BAFTA and the FIPRESCI and Palme d'Or at the Cannes Film Festival, it brought the cinema of China to a western audience.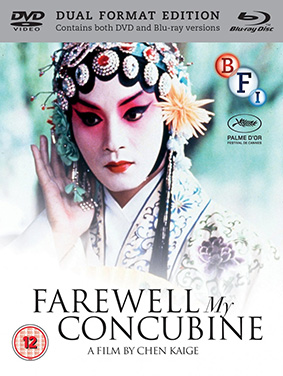 Farewell My Concubine [Ba wang bie ji] will be release in the UK as a dual format edition (Blu-ray and DVD) on 21st March 2016 by the BFI at the RRP of £19.99.
Special features:
The Making of Farewell My Concubine (2003, 24 mins): documentary charting the making of the film, featuring behind-the-scenes footage and interviews with the cast and the director