Psychologist Peter Bower's life is thrown into turmoil when he discovers that the patients he has been seeing are ghosts. Risking his own sanity, Peter delves into his past to uncover a terrifying secret which only he can put right.
With an eerie sense of atmosphere that harkens back to The Sixth Sense and an accomplished scare factor reminiscent of Insidious, Backtrack is an atmospheric modern day ghost story. A gripping mystery is handled with panache by writer-director Michael Petroni (The Book Thief, The Chronicles of Narnia: The Voyage of the Dawn Treader) and his heavyweight cast, including Adrien Brody as the troubled psychologist, and strongly supported by the ever-reliable Sam Neill. The film also features Robin McLeavy and Bruce Spence, best known for his role as The Gyro Captain in The Road Warrior.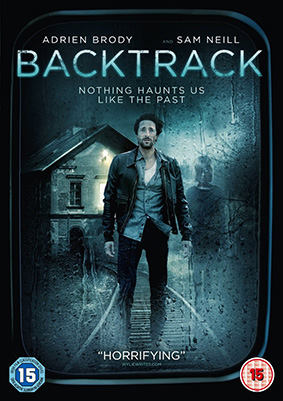 Backtrack will be released on UK DVD on 14th March 2016 by Arrow Films at the RRP of £15.99.
No special features have been announced.