Tom is an aspiring musician who plays seedy bars in the backstreets of Paris. The one thing tearing him away from his music is the example set by his father – a sleazy life of crime which Tom seems set to follow. But when, by chance, he meets a friend of his concert pianist mother's, his musical ambitions are rekindled and he strives to make a better life for himself.
From the director of the Palme d'Or winning Dheepan, The Beat That My Heart Skipped features an electrifying performance by Romain Duris and won the 2006 BAFTA for Film Not in the English Language.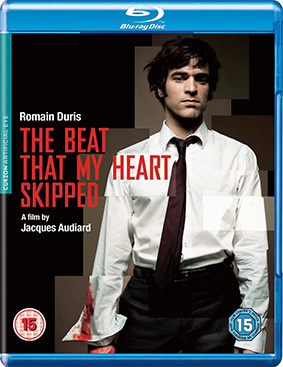 The Beat That My Heart Skipped [De battre mon coeur s'est arrêté], Jaques Audiard's triumphant noir remake of James Toback's 1978 Fingers will be release on Blu-Ray for the first time in the UK on 14th March 2016 by Curzon Artificial Eye at the RRP of £19.99.
Special features:
Interviews with the director Jacques Audiard, co-writer Tonino Benacquista and composer Alexandre Desplay

Q&A with Romain Duris, Tonio Benaquista and Linh-Dan Phan

Rehearsal footage

Romain Duris Singing

Deleted scenes

Trailer
You can read our review of the previous Artificial Eye DVD release here.