The groundbreaking classic British science fiction series Doomwatch originally aired on the BBC from 1970 to 1972, and at its peek it attracted in excess of 13.6 million viewers and spawned two film adaptations. Although in huge demand, it has never before been available on DVD, until now... Thanks to Simply Media, Doomwatch Series 1-3 makes its long awaited DVD debut. Not all of the episodes made it but the ones that still exist come to DVD as Doomwatch Series 1-3 The Remaining Episodes in April. The available episodes will be released in a 7-disc box set, together with unseen episode Sex and Violence and the BBC documentary The Cult of Doomwatch.
The cult series is the brainchild of Kid Pedler and Gerry Davis, the men responsible for Doctor Who's iconic Cybermen, and follows government agency The Department of Measurement of Scientific Work AKA Doomwatch, as they fight to protect mankind from all manner of horrifying technology and experiments gone wrong.
The team lead by Dr. Spencer Quist (John Paul – A Countess from Hong Kong), alongside Colin Bradley (Joby Blanshard – The Brothers), Toby Wren (Robert Powell – The Detectives), and Dr. Fay Chantry (Jean Trend – Z Cars), must battle hyper intelligent rats, toxic waste, plastic eating bacteria, mind destroying sound waves and genetic mutations from day to day – all the while confronted with volatile corporations, their own unsupportive government superiors and ever changing dynamics within the team.
Set in a time of public fascination with the perils of science and technology, Doomwatch offers a glimpse of real scientific concepts, that are still relevant today and explores the moral dilemmas faced by those left to pick up the pieces when things inevitably go wrong.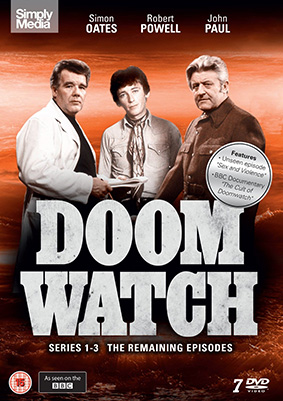 Doomwatch Series 1-3 will be released on UK DVD as a 7-disc box set on 4th April 2015 by Simply Media at the RRP of £39.99.
Special features:
BBC documentary The Cult of Doomwatch
Unseen episode Sex and Violence