The latest two DVD releases from Network as part of 'The British Film' collection have been announced: British Musicals of the 1930s: Volume 5, featuring Happy, Invitation to the Waltz, Glamourous Night and Let's Make a Night Of It; and Aldwych Farces: Volume 4, featuring Lady in Danger and Pot Luck.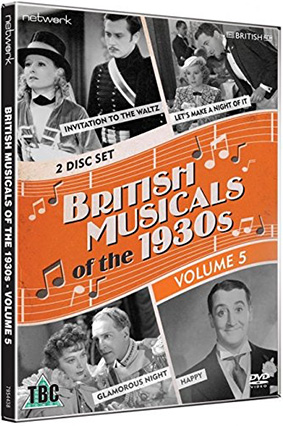 British Musicals of the 1930s: Volume 5
From playful romantic comedies to variety extravaganzas, the pre-war British musical films offered audiences a source of much-needed escapism throughout the decade haunted by the Great Depression and the growing menace of war.
Often adapting much-loved hits of the music hall as well as serving as vehicles for the era's composers, performers and band leaders, they showcased home-grown talent alongside some of Hollywood's most bankable stars.
This ongoing, multi-volume collection makes available a wealth of rare gems from the very earliest days of the British talkies, many of which have remained unseen since their original release. Each film is presented uncut, in a brand-new transfer from the original film elements in its as-exhibited theatrical aspect ratio.
Disc 1
Happy (1934)
Starring Stanley Lupino and featuring several songs by Noel Gay, this bright and breezy comedy tells the story of a young musician who invents an anti-theft device for cars, but works as a jazz conductor while waiting for his invention to be successful. Complications arise when he falls for the daughter of a wealthy car-insurance agent and poses as a millionaire in order to impress his prospective father-in-law.
Invitation to the Waltz (1936)
Lilian Harvey stars in this lavishly staged period romance from Austrian director Paul Merzbach. The story opens in London in 1804, as the threat of a Napoleonic invasion looms ever closer, a German duke and potential ally of England falls for a pretty ballerina.
Disc 2
Glamorous Night (1937)
An early hit for acclaimed Belfast-born director Brian Desmond-Hurst and based on Ivor Novello's hit stage play, an opera singer and her gypsy friends try to rescue their king from the clutches of a would-be dictator.
Let's Make a Night of It (1937)
Unbeknown to each other, a husband and wife acquire separate nightclubs in the same London street; however, both clubs are on the brink of bankruptcy leaving both Henry and Laura in a desperate situation.
British Musicals Of The 1930s: Volume 5 will be released on UK DVD on 1st February 2016 at the RRP of £14.99, courtesy of Network's 'The British Film' collection.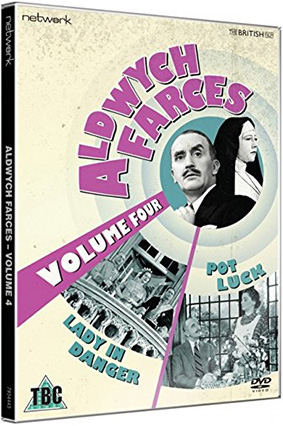 Aldwych Farces
A series of now-legendary stage comedies from the 1920s and '30s, the Aldwych Farces broke theatre box-office records and made the transition to celluloid with a run of hit films.
Making stars of Tom Walls, Ralph Lynn and Robertson Hare, most were penned by leading comic playwright Ben Travers and peopled by a regular cast of silly-ass aristocrats, battleaxe wives and put-upon husbands; nimble wordplay and finely crafted buffoonery were their hallmarks and the public loved them.
Lady In Danger (1934)
Businessman Richard Dexter is coerced into undertaking a dangerous mission to rescue the queen of Ardenburg and fly her to safety in England, where she will remain incognito, leaving his fiancée distinctly unimpressed.
Pot Luck (1936)
Scotland Yard's retiring Inspector Fitzpatrick hopes to pull off one last triumph and goes in search of a valuable vase which has been stolen by a gang of crooks, meeting mayhem along the way.
Though only ten adaptations were made on film, the influence of these enduringly popular films were great and can be seen in some of the key British comedies from the first half of the 20th century. This ongoing range will include not only the Aldwych Farces themselves but those films that they influenced. They are presented here as brand-new transfers from original film elements in their original aspect ratio.
Aldwych Farces: Volume 4 will be available to own on UK DVD from 1st February 2016 at the RRP of £12.99, courtesy of Network's 'The British Film' collection.