Arrow Video has announced the release of their latest giallo, Five Dolls for an August Moon [5 bambole per la luna d'agosto], directed by the master of the macabre, Mario Bava. Arriving on Blu-ray and DVD from 1st February 2016, this dual-format release joins a roster of previous Bava titles released through Arrow Video – A Bay of Blood, Black Sunday, Black Sabbath, The Girl Who Knew Too Much, Lisa and the Devil, Rabid Dogs and Blood and Black Lace.
Wealthy industrialist George Stark (Teodora Corrà – Django the Bastard) has gathered a group of friends – played by a who's who of Italian genre cinema including William Berger (Faccia a faccia), Ira von Fürstenberg (The Fifth Cord), Edwige Fenech (Your Vice is a Locked Room and Only I Have the Key) and Howard Ross (The New York Ripper) – to his island retreat. He hopes to entice them into investing in a new project, but soon the sunbathing and cocktails parties give way to murder, as the corpses begin to pile up one by one.
Paying homage to Agatha Christie's Ten Little Indians, Five Dolls for an August Moon turns the style up to ten. Surrounded by beautiful women, stunning locations and flamboyant fashions – and abetted by Piero Umiliani's equally exotic score – Bava creates one of his most eye-catching movies, a visual tour de force.
This new disc comes loaded with a wealth of bonus content including the documentary Mario Bava: Maestro of the Macabre – a profile of the director, hosted by Mark Kermode and featuring interviews with Joe Dante, John Carpenter and Tim Burton).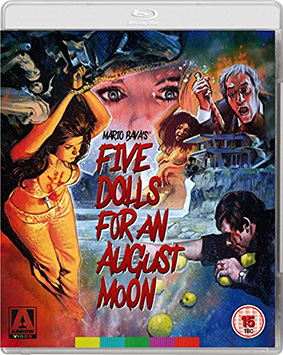 Five Dolls for an August Moon comes to UK dual format (Blu-ray and DVD) on 1st February 2016 from Arrow Video at the RRP of £19.99.
Disc specifications:
High Definition Blu-ray (1080p) and Standard Definition DVD presentations

Optional English and Italian soundtracks presented in original uncompressed mono PCM audio

Optional isolated music and effects track

Optional English subtitles for the Italian audio and English subtitles for the deaf and hard of hearing for the English audio
Special features:
Audio commentary by Mario Bava's biographer Tim Lucas

Mario Bava: Maestro of the Macabre – a documentary profile of the director, hosted by Mark Kermode and featuring interviews with Joe Dante, John Carpenter and Tim Burton

Theatrical trailer

Reversible sleeve featuring original and newly commissioned artwork by Graham Humphreys

Illustrated collector's booklet featuring new writing on the film by Glenn Kenny and a new essay by Adrian Smith on the Fancey family and their efforts to bring international exploitation titles, including Five Dolls for an August Moon, to a UK audience during the 60s, 70s and 80s