Second Sight have announced the March 2016 Blu-ray release of 2 cult horror favourites, Stuart Gordon's Re-Animator and Frank Henenlotter's Basket Case trilogy. If you're experiencing a whiff of déjà-vu, that's because they are actually re-releases (check out our review of the original 2014 release of Re-Animator here), but with the Basket Case trilogy effectively out of print, their return is still welcome. Both come in black case classic packaging and have the same special features as on the original releases.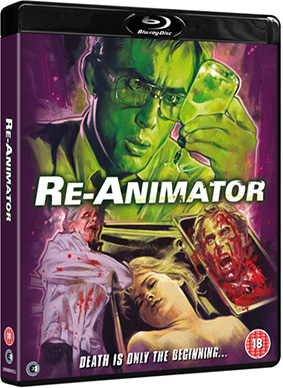 Re-Animator
Brilliant, if somewhat deranged, medical student Herbert West arrives at Miskatonic Medical School and immediately sneers at his professor's outdated views on death. West has his own outlandish theories and has concocted a serum that will bring the dead back to life. Roping in fellow student Dan Cain their shocking experiments work all too well with horrific and very messy results.
One of the most celebrated, outrageous, and original 80s horror films, Re-Animator is brought back to life on Blu-ray in all its gory glory. This horror classic will be released as a two-disc set in standard double-disc case, complete with a double-sided sleeve featuring the original poster and artwork by Graham Humphreys, two versions of the gorefest that is Re-Animator and tons of special features including deleted scenes, commentaries, a documentary, interviews and more.
Re-Animator returns to UK Blu-ray as a 2-disc set on 14th March 2016 from Second Sight at the RRP of £19.99.
Special features:
The 'Unrated' Version – brand new 4K restoration

The 'Integral' Version (exclusive to Blu-ray)

Audio commentary with director Stuart Gordon

Audio commentary with producer Brian Yuzna and actor Jeffrey Combs, Robert Sampson, Barbara Crampton and Bruce Abbott

Re-Animator Resurrectus documentary

Interviews with Stuart Gordon and Brian Yuzna, writer Dennis Paoli, composer Richard Band and Fangoria editor Tony Timpone

Extended scenes, deleted scenes and trailers

Gallery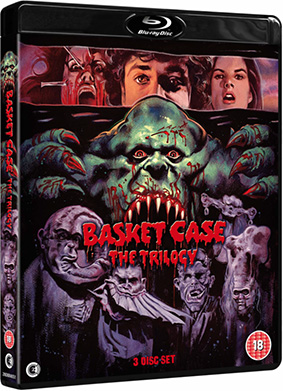 Basket Case – The Trilogy
What's in the basket? A question Duane Bradley is asked alot when he arrives in New York and checks into the sleazy Hotel Broslin, a place filled with drunks, odd-bods and prostitutes. We soon discover the answer; inside is his grotesquely deformed brother Belial. Separated at birth in a brutal operation the Siamese twins have come looking for revenge on the doctors that left Belial for dead and now the basket-dweller is ready to wreak blood-soaked carnage. Where the original classic ends the sequels pick up and things start to get really deranged when the brothers meet their long lost aunt 'Granny Ruth' and her houseful of freaks.
One of the essential repeat rentals for any self-respecting horror fan in the early 1980s, Frank Henenlotter's cult classic Basket Case and the gloriously psychotic sequels it spawned are collected together in one of the most twisted and enjoyable horror trilogies ever made. Now the wonderfully warped films will be released as Basket Case – The Trilogy in a three-disc standard case, complete with a basket load of bonus features.
Basket Case – The Trilogy comes to UK Blu-ray as a 3-disc set on 14th March 2016 from Second Sight at the RRP of £24.99.
Special features:
What's In The Basket? – A look at the making of the trilogy with director Frank Henenlotter; actors Kevin VanHentenryck, Beverly Bonner, Annie Ross; producers Edgar Ievans and James Glickenhaus; make-up effects artists John Caglione Jr, Kevin Haney, Gabe Bartalos; and writer Uncle Bob Martin
An Interview With Graham Humphreys – a look at the career of the legendary film poster artist
Additional bonus features for the original film:
Video Introduction by Frank Henenlotter
Audio commentary by director Frank Henenlotter, Producer Edgar Ievins And Actress Beverly Bonner
Outtakes/behind-the-scenes
2001 video short – The Hotel Broslin
Trailer/radio spots
Photo gallery: behind-the-scenes, promotional material, stills