Controversial British director Ken Russell (Women in Love, The Devils) tells the story of one of the silver screen's greatest legends, Rudolph Valentino, in this flamboyant and sexually charged film. Made in 1977 and previously unavailable on Blu-ray, it will be released in a Dual Format Edition by the BFI in Fabruary. The film is presented with numerous special features including an audio commentary, a new interview with cast member Dudley Sutton and other interviews.
Starring world-famous ballet dancer Rudolf Nureyev alongside Seymour Cassel (Faces, Rushmore, The Royal Tenenbaums), Felicity Kendal (The Good Life, Rosemary & Thyme), Leslie Caron (Gigi, An American in Paris), Michelle Phillips (Knots Landing, Forest Gump) and Carole Kane (Annie Hall, Dog Day Afternoon), Valentino traces the adored silent film actor's journey from humble beginnings as an Italian immigrant in New York, where he worked as a gigolo, to Hollywood, where he seduces famous lovers and ascends to stardom. Despite such towering success, tragedy beckons however, as Rudy falls prey the mass-hysteria of his audience, the blood-thirsty press and his own indulgent lifestyle.
Valentino is an enthralling biopic from one of Britain's most distinctive and celebrated filmmakers and is the first of three DVD/Blu-ray releases of Ken Russell films by the BFI this year, five years after his death in 2011. On 28th March, Ken Russell: The Great Composers (containing Elgar, The Debussy Film and Song of Summer) and Ken Russell: The Great Passions (containing Always on Sunday, Isadora and Dante's Inferno) will be released in Dual Format Editions.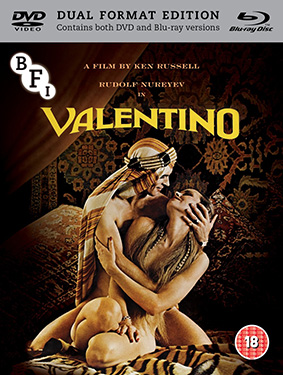 Valentino will be released in the UK as a dual format edition (containing Blu-ray and DVD discs) on 29th February by the BFI at the RRP of £19.99.
Special features:
Audio commentary with Tim Lucas

Original TV spots and trailers

Dudley Sutton Remembers Ken Russell and Filming Valentino (2016, 22 mins)

The Guardian Lecture: Ken Russell in conversation with Derek Malcolm (1987, 89 mins, audio with stills)

Lynn Seymour remembers Rudolf Nureyev (2003, 9 mins, audio with stills)

Tonight: Nureyev on Ken Russell and Valentino (1977, 10 mins)

Stills and Special Collections gallery (2016, 10 mins)

The Funeral of Valentino (1926, 9 mins)

Textless opening and closing credits

Isolated music and effects track

Illustrated booklet with extensive credits and newly commissioned essays