Uzumasa (Kyoto) is considered the Hollywood of Japan. It has produced many "jidaigeki" films (period dramas with sword fighting) that are loved by many Japanese, and are highly praised all over the world. These films wouldn't be what they were if it weren't for the "kirareyaku" (actors whose main job is to be killed by the lead star). Men who are killed, without ever being lit by the limelight…
The story of Uzumasa Limelight, directed by Ken Ochiai (Tiger Mask, Ninja the Monster) is about those men, the unsung heroes of classic jidaigeki films. They loved and respected the art, even when the production of classic jidaigeki films began to dwindle. Using Charlie Chaplin's film Limelight as an underlying theme, the admirable story of these men dealing with a new generation and fading craftsmanship is told with melancholy and soul.
Winner of Best Actor and Best Film at the Fantasia Film Festival and Audience Award at Camera Japan, New York Asian Film Festival, Heartland Film Festival, it stars Seizo Fukumoto (The Last Samurai, The Last Chushingura) – the actor who is said to have died 50,000 times!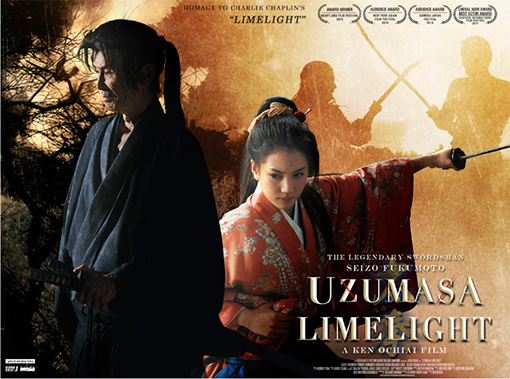 Director Ken Ochiai made his first film at age 12. Immediately following his high school graduation, he left his hometown of Tokyo, Japan, to pursue his dream of becoming a film director in the United States. Ochiai graduated from the USC School of Cinematic Arts in 2006 with a BA in production. In 2008, he received his MFA from the American Film Institute Conservatory in directing.
To date, Ochiai has made more than 30 short films, commercials, and music videos including Half Kenneth, which won the Jury Prize from the Directors Guild of America; Frog In The Well, which won the Crystal Award at the Heartland Film Festival; and Miyuki's Wind Bell, which won the Sapporo Peace Award at the Sapporo Short Fest.
He received the Young Alumni Award from the USC Asian Pacific Alumni Association in recognition of his achievements in filmmaking. His first feature film, Tiger Mask was released in the fall 2013 in several Asian countries. The film is based on a Japanese legendary comic book series and produced by Toshiaki Nakazawa, producer from an Oscar-winning film Departures.
Uzumasa Limelight will be released in the UK by Third Window Films on 9th February at the ICA Cinema from 9th February 2016, and is then confirmed to play at the following venues: Watershed Bristol, Showroom Cinema Sheffield, Filmhouse Edinburgh, QUAD Derby, MAC Birmingham, DCA Dundee, Phoenix Leicester, Aberystwyth Arts Centre Aberystwyth.