A rare and inventive addition to the classic "whodunnit" genre, believed lost for decades, the 1951 Mystery Junction is the latest title in Network's 'The British Film' collection.
Miss Owens, an avid reader of detective stories, finds herself travelling in the same railway compartment as crime writer Larry Gordon – neither of them realising that amongst their fellow passengers is a prisoner under escort to trial for murder. When a rescue attempt claims a policeman's life and the passengers become snowbound at a remote railway station, it's a race against time to unmask the culprit before the murderer strikes again!
Sydney Tafler (Alfie, The Spy Who Loved Me) stars as a celebrated crime writer who finds life imitating art when he boards a train on which murder is a travelling companion.
Mystery Junction also features performances from Barbara Murray (The Power Game, Up Pompeii) and soon-to-be Hollywood star Patricia Owens (The Fly, Sayonara).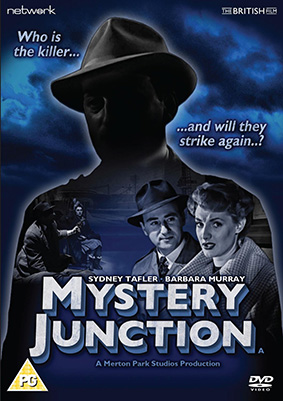 Mystery Junction will be released on UK DVD on 18th January 2016 at the RRP of £9.99, courtesy of Network's 'The British Film' collection.
The film is presented here in a brand-new transfer from the original film elements in its as-exhibited theatrical aspect ratio.
No extra features have been announced.