Starring in his final film Steve Cochran (White Heat) plays a world-weary, out-of-work pilot who accepts an offer of work in Mozambique – and soon finds himself immersed in a world of drug smuggling and white slavery.
Thrills, excitement and exotic locations add up to compulsive viewing in this Anglo-German adventure from the mid-1960s. Produced by B-movie meister and cult favourite Harry Alan Towers (The Call of the Wild, The Mangler) and scripted by noted screenwriter, playwright and novelist Peter Yeldham (Jessica, The Rivers Run Wild), Mozambique is presented here in a brand-new transfer from the original film elements in its as-exhibited theatrical aspect ratio.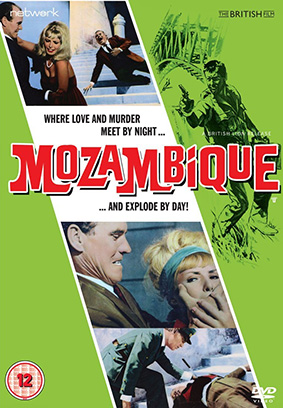 Directed by Robert Lynn (Killer's Carnival), Mozambique will be released on UK DVD on 18th January 2016 at the RRP of £9.99, courtesy of Network's 'The British Film' collection.
Special features:
Original theatrical trailer

Image gallery

Promotional materials PDF