Eureka Entertainment have announced the UK release of the 1951 Fixed Bayonets!, Samuel Fuller's startlingly realistic and harrowing depiction of the Korean War, as part of The Masters of Cinema Series on 15th February 2016.
Iconoclastic American director Samuel Fuller's first production for a major studio was this tense, snowbound Korean War drama.

A small platoon of army grunts are ordered to stay behind to protect a 15,000-man division as it moves out under heavy enemy fire. One corporal, whom the platoon has mistakenly come to believe is a hero, is left with the responsibility of protecting the men - a decision that may cost them dearly amidst escalating and unpredictable circumstances.

One of Hollywood's most impassioned and unvarnished war films, bursting with first-hand detail from Fuller's own experiences of soldier life in World War Two, and rendered unforgettably with his inimitably vivid filmmaking style, Fixed Bayonets! features Richard Basehart (La Strada, Il bidone), Fuller regular Gene Evans (Park Row, Shock Corridor) and an early appearance by James Dean.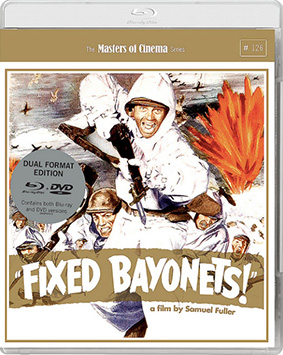 Fixed Bayonets will be released in the UK as a dual format edition (Blu-ray and DVD) on 15th February 2016 by Eureka Entertainment as part of the Masters of Cinema series at the RRP of £17.95.
Disc features:
New 4k restoration by Twentieth Century Fox

Uncompressed monaural soundtrack on the Blu-ray

Optional English subtitles for the deaf and hard-of-hearing
Special features:
Audio commentary by film scholar Adrian Martin

Original theatrical trailer

Gallery of production and publicity photos

A booklet featuring a new essay by critic Glenn Kenny and excerpts from Fuller's autobiography A Third Face
You can read our review of the previous Optimum DVD release here.